To prevent unauthorised access to your Instagram account, Instagram may send you a verification code through SMS or email. However, what happens if Instagram never sends you a security code? There will be no way for you to access your Instagram account. Here are several solutions to Instagram not sending security codes.
Why Does Instagram Ask for a Security Code?
First, let's figure out why Instagram needs extra verification information from you before we explain to you how to fix Instagram not sending a security code.
There have been suspicious login attempts from your phone, thus the company has prompted you to verify your identity before restricting access to your Instagram account. When logging into Instagram from a new location, you may be prompted to provide a security code.
When you attempt to access your Instagram account from a new device, Instagram will consider this behaviour suspicious and require you to authenticate your identity before granting access.
Here is How to Fix Instagram Not Sending a Security Code
1 – Check Network Connection
You may have issues obtaining the Instagram security code if you are in an area with poor cellular service. Verify that your phone has a sufficient number of network bars.
Airplane mode may be toggled on and off as needed to restore network access. After you've put your phone into airplane mode, contact Instagram again to have them issue you a verification code.
2 – Disable VPN if Activated
You may change your online identity by using a different IP address on your computer or mobile device, thanks to the VPN. As a result, if you attempt to access Instagram while the VPN is running, Instagram may mark your account for further investigation.
You may prevent this kind of problem by turning off the VPN on your phone and then attempting to login into your Instagram account again. In the future, when you log in using a previously used IP address, you may not be asked for a security code.
3 – Check Spam Inbox
Instagram may have already sent you the necessary security code, but it may have ended up in your spam folder instead of your inbox. There are occasions when Gmail and other email clients are overly hasty in marking messages as spam when they really should not be.
Launch your web-based email client of choice, whether it is Gmail or another service. The most widely used email service is Gmail, therefore we will use it as an example.
Go to Gmail Using Your Laptop/Computer
Log in with Your Credentials
Click on the "More" Option to Expand the Menu
Scroll Down to Find "Spam Folder" and Click on it
Check your spam box to see whether there is an email from Instagram waiting for you. To access the Spam folder on a mobile device running the Gmail app, tap the hamburger menu.
4 – Try Using Different Verification Methods
Whenever a verification fails, you may use either email verification or the one-time login code. The most secure method to access your Instagram account is by using a one-time verification code. The methods to access the one-time verification code for Instagram login are as follows:
Go to Instagram App
Choose Your Profile Icon (Bottom Right)
Now Choose 3-Line Icon and Touch Settings
Tap on "Security"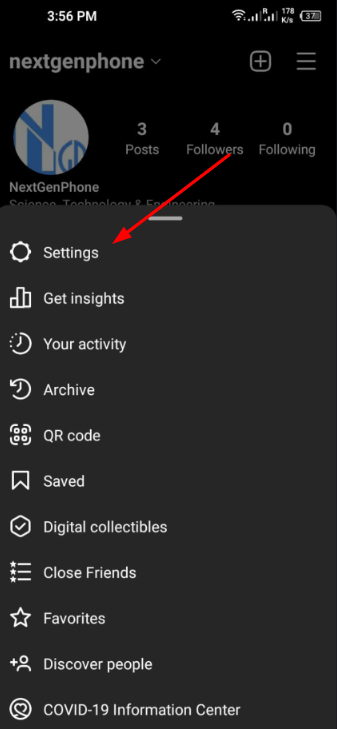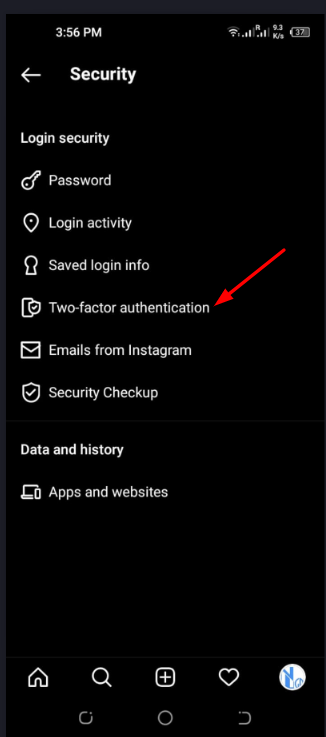 Choose Additional Methods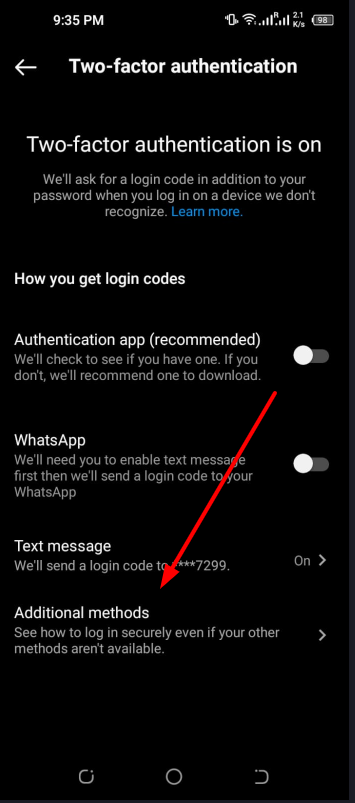 Now Tap on "Backup" Codes
To use this approach, you must have the codes already written elsewhere. Use this code to get into your Instagram account.
5 – Wait for Some Time
If, after trying the above methods, you still haven't received the security code through SMS or email, you'll just have to be patient. After all, there are a billion or more Instagram users out there, thus the Instagram servers may sometimes have difficulty fulfilling everyone's requests. Now, put your phone down for a while and wait for Instagram to send you a security code.
6 – Check if Instagram Server is Down
When Instagram's servers are down, it won't be able to send you a verification code. That means Instagram is unable to carry out any requests. You won't be able to update your feed, send messages, or even upload your priceless memories. Look for Instagram on DownDetector.
They must have reported it if others are having the same problem. As soon as the company acknowledges the problem, you will see high outage graphs. While you wait for Instagram to resolve the problem, you may keep up with the latest developments by following the company's social media accounts.
Nothing Works? Contact Instagram Support
If your network connection is working fine and you're not using any VPS, but you still do not have Instagram security, you should contact Instagram's customer support.
However, this is the very last available option to consider. Hopefully, by this time, everything will have been resolved. That's all, folks! This is what you must know about how to fix Instagram not sending a security code.