Automatic brightness adjustment is a useful feature on Android 13 smartphones that optimises the brightness of your screen to the ambient light conditions.
However, there are times when this function might be more of a bother than a benefit. Users might be irritated by issues such as too forceful changes or uneven brightness settings.
Well, in this detailed guide, we'll look at different solutions to address uncomfortable automatic brightness problems on Android 13 smartphones and will make sure your screen brightness works as intended and improves your entire smartphone experience.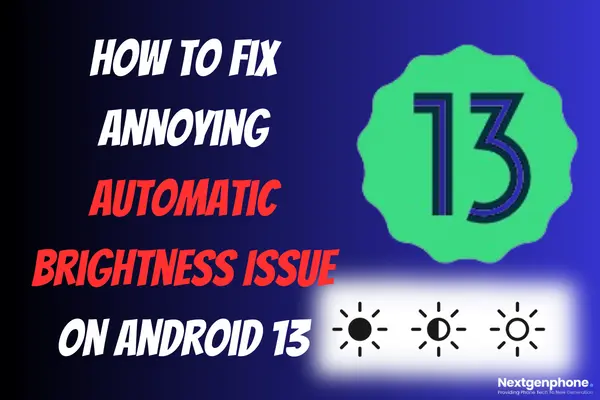 Why Automatic Brightness Issues Occur?
Understanding why automatic brightness problems occur might help you in dealing with them efficiently. These issues are often caused by a mix of factors, such as software bugs, hardware restrictions, and user choices.
Manufacturers aim to develop devices that give a consistent user experience. However, the sensor responsible for sensing ambient light may not always work properly.
Furthermore, software upgrades can bring up problems that alter how the device controls brightness. User behaviours, such as changing lighting conditions regularly or manually altering brightness, might also have an influence on the system's capacity to adapt properly.
Well, recognising these underlying reasons allows you to comprehend the significance of the solutions covered in this guide and choose the one that best fits your individual circumstances.
How to Fix Annoying Automatic Brightness Issue on Android 13?
1: Turn off and On Adaptive Brightness
The first step in troubleshooting automatic brightness difficulties is to turn off and then back on the adaptive brightness option. Take the following steps to do it:
Step 1: Go to Settings on Your Android Phone.
Step 2: Scroll Down and Tap on "Display & Brightness".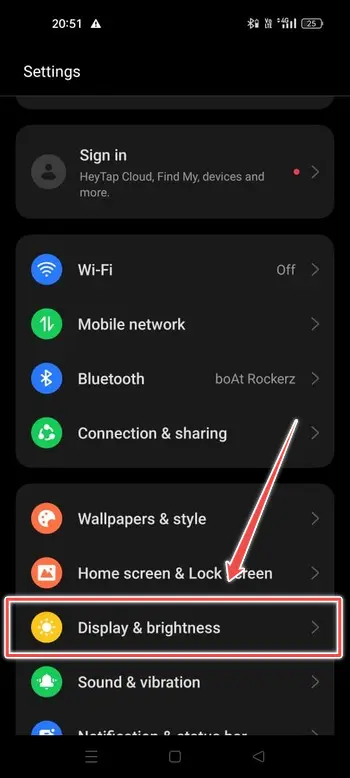 Step 3: Find the "Adaptive Brightness/ Auto Brightness" Option and Tap to Turn it Off.
Step 4: Wait for a Few Seconds and Turn it Back On.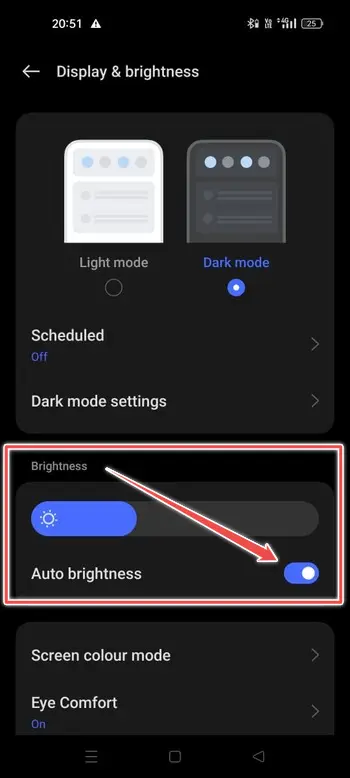 This simple process can sometimes reset the feature and address minor glitches.
2: Manually Adjust the Brightness Levels
If you continue to have problems with automatic brightness, you can switch to manual brightness adjustment. This method enables you to control the brightness level, removing any unpredictable behaviour. Here's how to get it done:
Go to Settings on Your Android Phone.
Scroll Down and Tap on "Display & Brightness".
Disable "Adaptive / Auto Brightness" if it's Still Enabled.
Next, Tap on Brightness Level.
Adjust the Brightness Slider to Your Preferred Level.
While manual control provides stability, keep in mind that it does not automatically adjust to changing lighting conditions.
3: Check for Software Updates
Outdated software is often the blame for automatic brightness issues. Manufacturers often offer updates to fix such issues. Here's how to find and install updates:
Step 1: Go to Settings on your Android Phone.
Step 2: Click "Software Update".
Step 3: Select "Check for Updates".
If an update is available, download and install it by following the on-screen instructions. Software upgrades can include bug fixes and enhancements that help to alleviate automatic brightness problems.
4: Use Third-Party Apps
If the built-in methods haven't worked for you, try utilising third-party screen brightness management applications. Lux Auto Brightness Lite, for example, provides sophisticated control and customisation possibilities. Here's how to put it to use:
Visit the Google Play Store and Search for a Brightness Control App like "Lux Auto Brightness Lite"
Download and Install the App.
Follow the App's Setup Instructions and Configure Your Preferred Brightness Settings.
Some applications may need extra permissions in order to work properly. So, give them as necessary. Remember, third-party applications for screen brightness adjustment may give a greater degree of control and fine-tuning choices.


What to Do When Automatic Brightness Issues Persist?
Even after attempting each of the methods listed above, automatic brightness issues can persist in certain circumstances. When confronted with such recurrent issues, it is critical to look into alternate techniques.
You may get help from your device's manufacturer or customer service. They might be aware of particular difficulties connected to your device model and may provide advice or updates to help you fix the issue.
Besides, joining online forums and groups devoted to your device can be beneficial, as other users often share their experiences and possible solutions.
If everything else fails, you might have to visit a professional technician who can identify and solve any underlying hardware problems that may be interfering with the light sensor's performance.
While these steps might require more work, they will eventually result in a more suitable solution to your automatic brightness problems.
Conclusion
Dealing with annoying automatic brightness problems on your Android 13 smartphone can be frustrating, but the methods listed above can help you discover a solution that works for you.
Whether you choose to readjust the light sensor, change settings, or utilise third-party applications, the end goal is to provide an enjoyable and consistent viewing experience.
By following these steps, you'll be well on your way to addressing the automatic brightness issues and getting the most out of your Android smartphone.