WhatsApp is, indeed, an excellent application for instant messaging and calling – used by millions of users across the globe. However, it would need a phone number to get it verified, no matter which part of the world you are in.
We've received a number of questions regarding WhatsApp application like calling limit & What is My WhatsApp Number, how can I change it or hide it from others, and more?
Therefore, we've listed down a procedure that will help you find your WhatsApp number in the application so that you can change it or hide it on your own.
How to Know What is My WhatsApp Number?
Your number is normally your regular phone number which you use for calling and texting to your loved ones. And if you don't know it through, here is how to find it:
Open up a WhatsApp application
You'll see a "Symbol" on the right of a screen
Tap on a "Symbol" and look for Settings
Tap on Settings and your account will be opened
Tap on your name and it'll show you a Status and your WhatsApp Number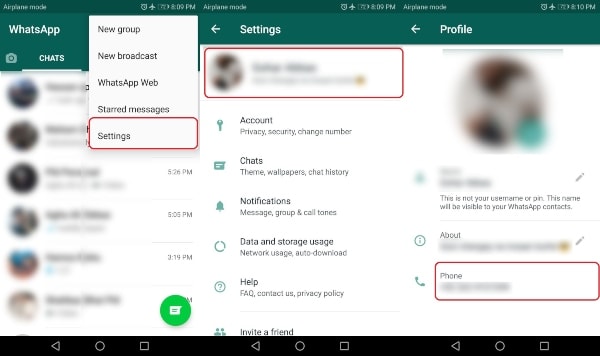 How to Change WhatsApp Number?
Making changes in the WhatsApp setting is quite easier. However, if you're looking for How to Change WhatsApp Number, it's a little bit stressful experience as you may lose your entire data, i.e., Chat History, Images, and Videos.
In order to avoid losing data, WhatsApp back in 2017 added a feature that makes this process much easier. They have added "Change Number Feature" which helps you to get your phone number changed and update another number without having to compromise on your chat history, images, and videos.
Moreover, WhatsApp too offers easiness to let your contacts know when you Transfer WhatsApp to the New Number so that you no longer need to go through a stressful messaging them individually.
When using a Change Number on WhatsApp feature, all your details including profile information, groups, chats as well as settings will automatically be migrated to your newly added phone number.
It also eliminates an account with your old phone number to keep your friends from having your old phone number on their WhatsApp contact list. When using "Change Number Feature," it's recommended that you remind the contacts of your new phone number.
Make sure your new phone number is able to get SMS or Calls and has an active internet link before starting the process. Your old phone number will also be reviewed on your account.
In order to start the number changing process, make sure your old phone number is verified in WhatsApp. If it's verified, then here is a complete guide on How to Change WhatsApp Number?
Open up WhatsApp Account
Go to Settings
Choose Account and Change Number
A Warning Message will appear to confirm to receive SMS or Calls on New Numbers
Tap Next and enter your old phone number and new phone number
Tap Next and you'll have an option to let your contacts know about your new phone number
Tap "Done" and a process is completed
The verification process for your new number will be started and a couple of things that you need to keep in mind include:
Although you can alert your new contacts, you'll also want to see to it that your old phone number is deleted. When anyone ends up using your old number, they're in the contact lists of your friends. In fact, you don't have to uninstall your old account. The Change Number feature of WhatsApp does it for you.
However, if you're going to change your smartphone, all you need to do is to download just WhatsApp on your new phone and get your new number verified.
But make sure to remove WhatsApp from your old smartphone. All your chat history, groups, and setting will be migrated to your new phone and new number automatically.