Are you sick of seeing those little, snappy videos that always appear on your YouTube feed? You know, the ones that grab your attention completely out of the blue?
To your good fortune! You may regain control of your YouTube experience by following the steps outlined here to stop receiving YouTube Shorts.
You may finally break free from YouTube's never-ending scrolling now. To disable YouTube shorts on your smartphone, you just need to follow a few simple and easy steps.
Let's get right in and get those shorts off your screen, shall we?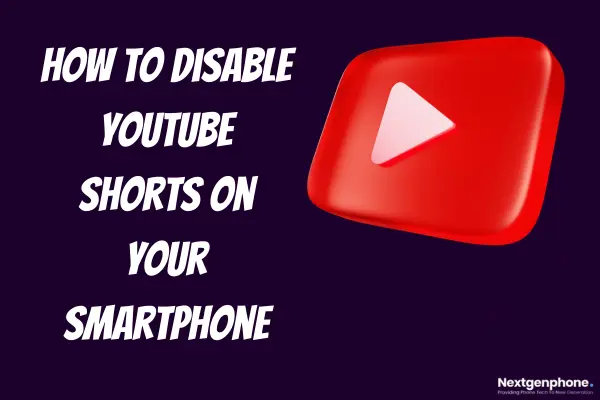 Ways to Disable YouTube Shorts on Your Smartphone
1.     Use YouTube's desktop site to remove YouTube Shorts
Visit the YouTube website on your Android or iOS smartphone by using the web browser of your choice and navigating to the site. The mobile website will automatically load when you use the browser.
Step 1: If you put your mouse pointer over the URL bar and write YouTube, you can click on Youtube.com.
Step 2: You can see the desktop version in this manner.
Step 3: Now, scroll down until you reach the "Shorts" area of the webpage.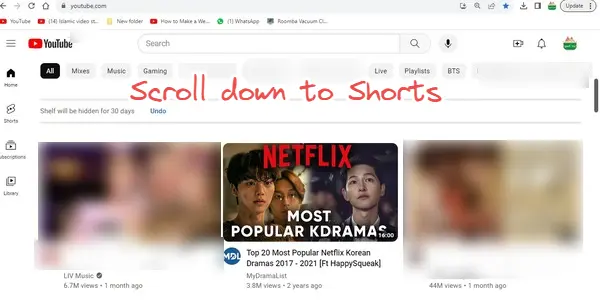 Step 4: To get rid of the Shorts suggestions, all you have to do is click the "X" button in the upper right corner of the Shorts panel.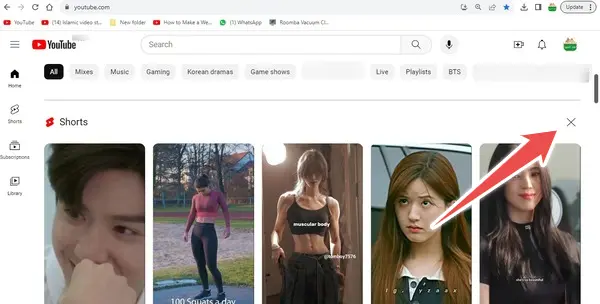 2.     "Not interested."
To disable Shorts from your Android or iOS app, you may do so by identifying Shorts as "Not interested." It can be done from the platform's settings.
After watching your chosen video, go to the suggestions area and keep scrolling until you reach the YouTube Shorts section.
Step 1: To do so, click the menu button represented by three dots in the upper right corner of a Shorts video. Next, choose the "Not interested or Don't recommend this channel" option from the drop-down menu.
Step 2: Continue doing this until there are no more suggestions for short stories remaining. Please keep in mind that this is not a long-term fix.
3.    Download an older version of YouTube on your mobile device
If you need to use the YouTube app but can't stand that it includes Shorts, you may go back to a version released before it was included.
When YouTube first released its app, it was essentially just a duplicate of the website without the Shorts section.
It is very difficult, to install an older version of the YouTube app on an iPhone.
Thus, it is suggested that you adhere to the other procedures described in this manual. If you're still interested in giving it a go, however, we offer instructions on how to put an older version of an app on an iPhone. See if you can find an older version of the YouTube app and try it.
While it is possible to install APK files and, hence, earlier versions of programs on Android, this does not function very well with Google's stock apps (which unfortunately includes YouTube).
You may prevent YouTube Shorts from appearing in your feed by rolling back to a previous version of the app by uninstalling updates if your phone shipped with YouTube version 14.12.56 or earlier.
4.    Remove all YouTube app updates from your Android device
On certain Android devices, you may find the option to delete app updates for the YouTube app and then return to an earlier program version.
Only if the YouTube app version on your Android device is older than version 14.13.54 will this be a viable option for you.
Step 1: Launch the Play Store app and look for YouTube in the search results. You should see three dots in the screen's top-right corner, corresponding to the menu with three dots.
Step 2: Deactivate the "Enable auto-update" option by unchecking it here.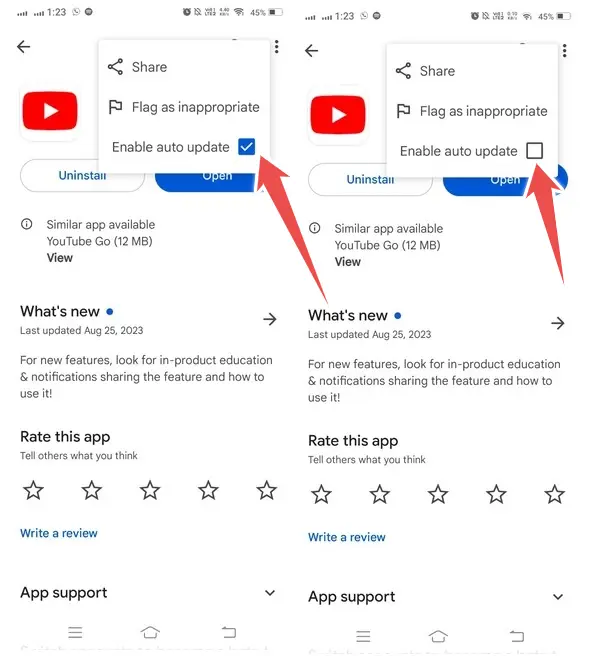 Step 3: You can now continue using the older version of YouTube for as long as Google will let you.
Conclusion
That's all, folks: These are the few best ways to disable YouTube shorts on your smartphone.
What are your thoughts on the YouTube Shorts feature? Leave a comment if you're having trouble turning off YouTube Shorts on your mobile device.