Keeping track of your macro consumption with one of the numerous available apps is essential for your health and weight loss/maintenance efforts. Though many will begin new fitness and health regimens in 2022, many will still find nutrition to be a mystery. What exactly are these macros? What makes them so significant?
To get you started on the path to better health and fitness this year, we've compiled a list of the top 10 best Macro Tracking apps for Android 2022-2023.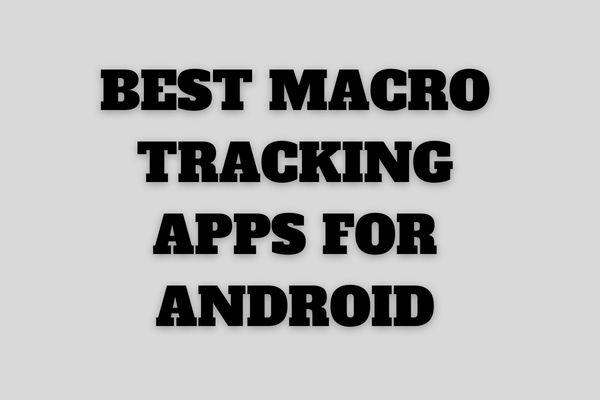 Best Macro Tracking Apps (Free)
1 – Fooducate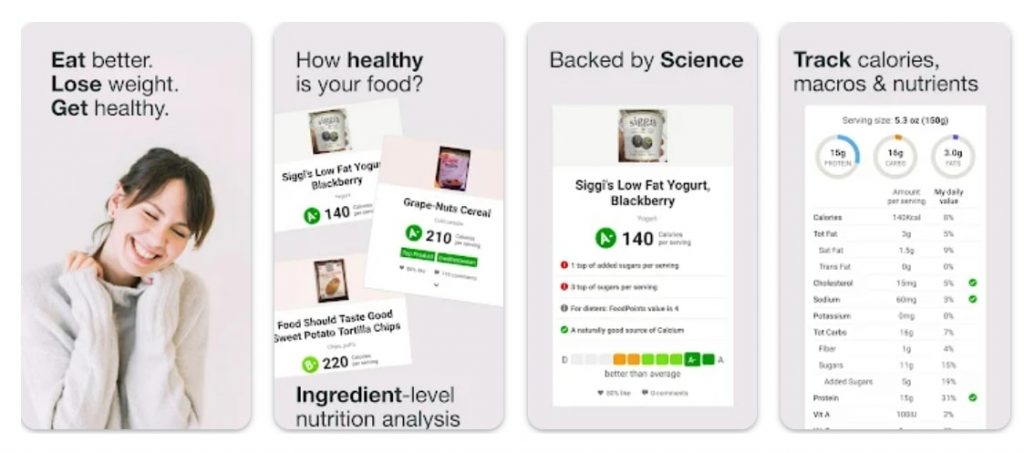 Fooducate, available on both Android and iOS, is a food coach that does a lot more than monitor calories. You may lose weight, improve your health, and increase your fitness level by learning to consume real food with the help of the nutrition tracker app.
Features
With the help of Fooducate, you may improve your nutrition, health, and fitness.
If you want to see results and reach your objectives, keeping track of your food and activity intake and output is essential.
Short, simple books to help you gain confidence in your weight loss efforts.

2 – Carb Manager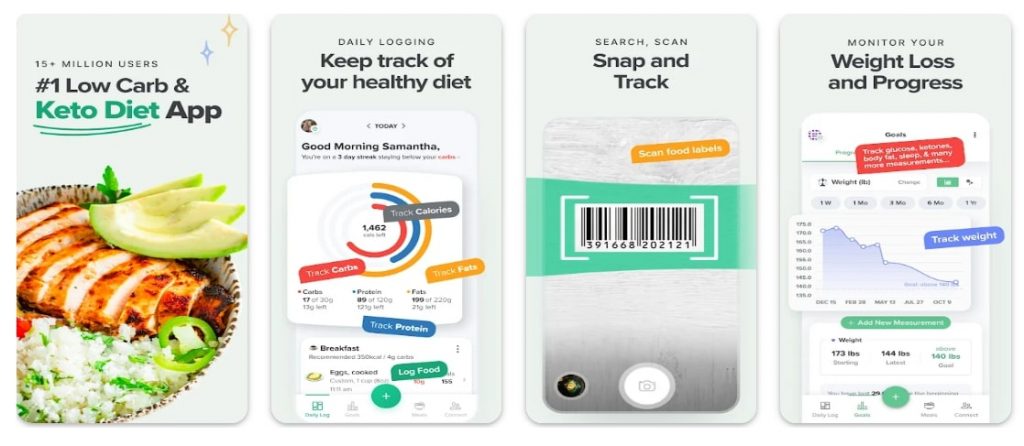 Stay accountable and make tracking carbohydrates and macros simple with Carb Manager! Your reliable guide to maintaining a low-carb diet for the long-term benefit of your health. Whether you're following a Ketogenic, Low-Carb, Paleo, Carnivore, or another diet, you can use the app's powerful macro tracker, protein tracker, and other features to get your metabolic health in check and stay there.
Features
Counts calories and fat grammes separately for each macro.
The body mass index (BMI) may also be determined using the weight tracking feature.
There is a glycemic index for each recipe included in the nutrition facts.

3 – Lifesum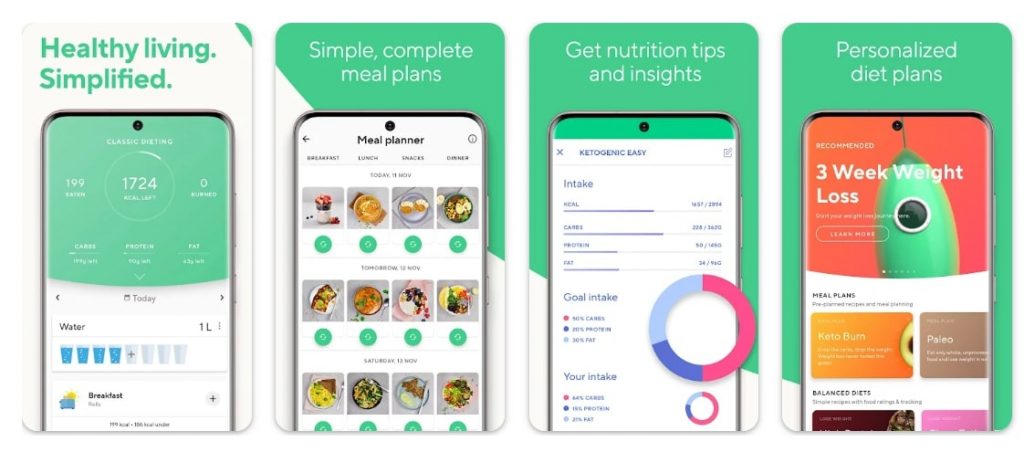 Is cutting out sugar, carbs, or fat the goal of your diet? It provides the appropriate diet for every aim. Need a health tracker to remain in check? Not to worry. This application has acquired an intuitive meal diary, macro calculator and loads of nutritional information.
Features
Contains customised meal plans, whether it's keto, paleo, a sugar detox, etc.
Colourful and easily understood visuals that indicate your macro ratios, water consumption, and calorie count.
There is a large selection of nutritious recipes available inside the app.

4 – Lose It – Calorie Counter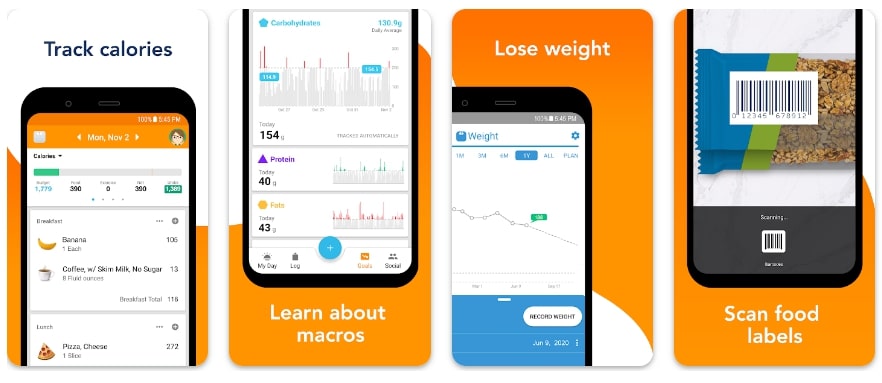 Diet application that tracks calories and what you eat, allowing you to lose weight more effectively. To lose weight, all you have to do is download the app, establish your objectives, and start recording your daily intake and activity levels. This app makes keeping tabs on your macro, carb, and calorie consumption a breeze.
Features
Simply by uploading a photo of your food, it can give you a rough estimate of the carb content.
Adjust your dietary goals to fit with trendy eating plans like ketogenic, vegan, Whole 30-day, etc.
Recipes suitable for a wide variety of diets may be easily accessed via its search interface.

5 – Simple Macros – Diet Tracking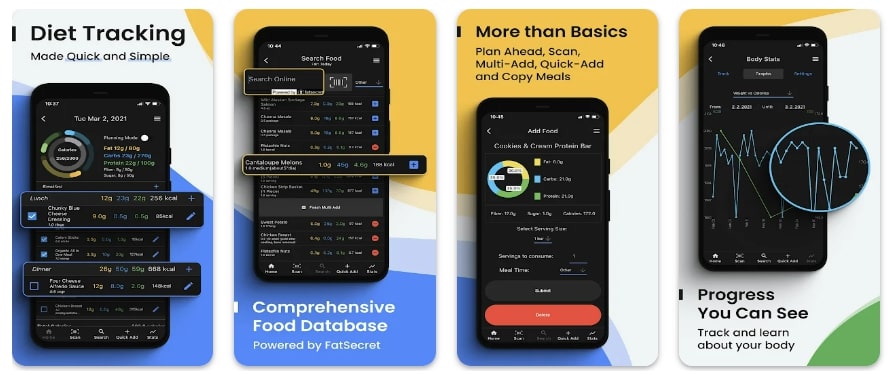 Have you had enough of using diet planner apps that are both disorganised and out of date? Try out Simple Macros, an app made for those like myself who want all the perks of a cutting-edge diet tracker including an extensive food database.
Features
Barcode scanning for food items allows for quick and simple record-keeping.
Designed to keep track of your diet by recording your meals along with the macro, micro, and calorie counts.
Allows for the recording of weight and other anthropometric data.

6 – Cronometer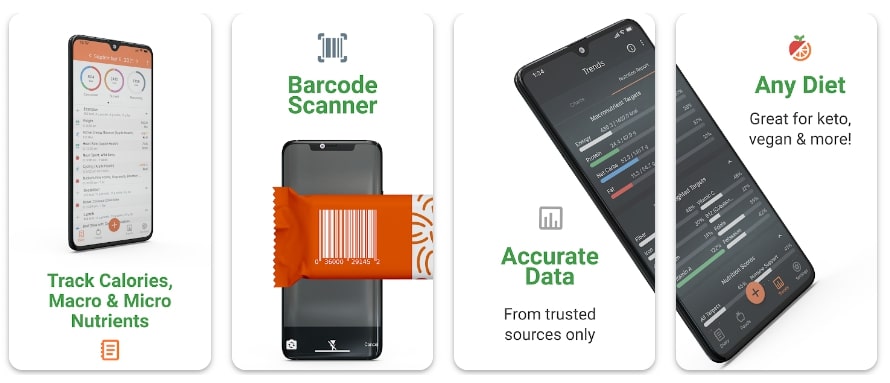 The chronometer tracking app is one of several that can keep tabs on 82 different micronutrients. If you want to get in shape fast, this app will offer you the data and reports you need to make the right food and drink choices.
Features
The application is always updated with new and better features.
Great app for learning about healthy eating!
Modifications to one's diet may be readily monitored.
Accepts both Android and iOS devices

7 – MyFitnessPal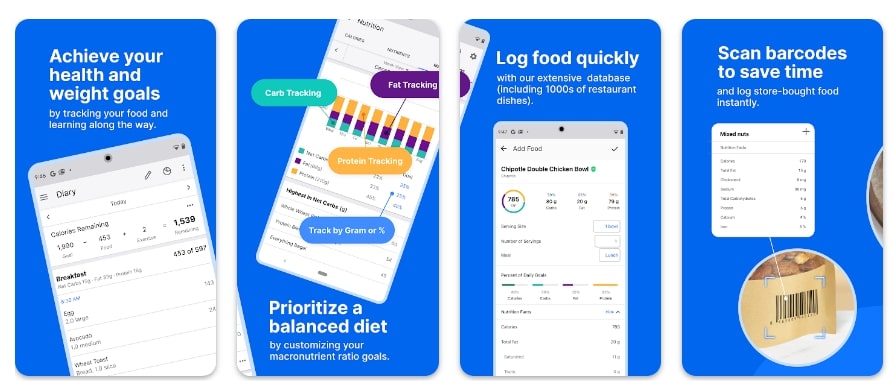 You can become healthier, reduce weight, build muscle, and alter your eating habits with the aid of the MyFitnessPal monitoring app. It can communicate with a wide variety of fitness trackers and applications, including Fitbit, Jawbone UP, Garmin, MapMyFitness, Runkeeper, Strava, and many more.
Features
Simple and straightforward meal tracking solutions are available.
Make use of the fitness tracker to log your exercises and daily steps.
Keep an eye on your diet at a glance, or go deep into the numbers.

8 – MyNetDiary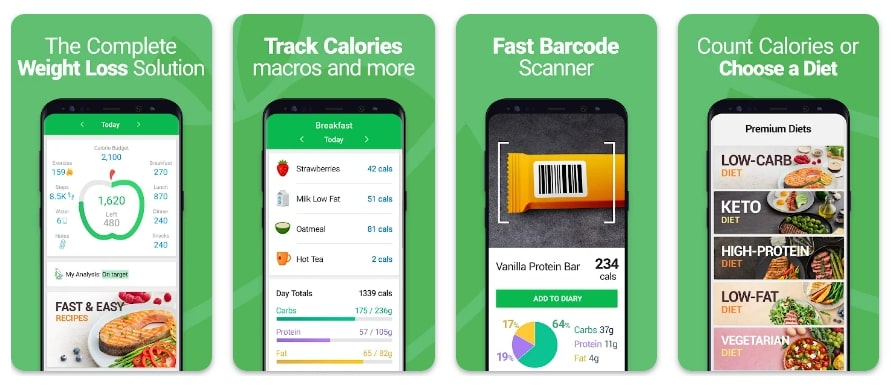 If you want to lose weight, this app has everything you need. It does more than just count calories; it also does a nutritional analysis of your food and guides you with diet suggestions to help you achieve your objectives.
Features
Log your workouts with support for more than 500 different moves.
Messages and advice from a coach every day
Modify the app's design and functionality as you see fit.
Soft, non-obligatory prompts to eat and weigh yourself

Best Macro Tracking Apps (Paid)
9 – My Macros+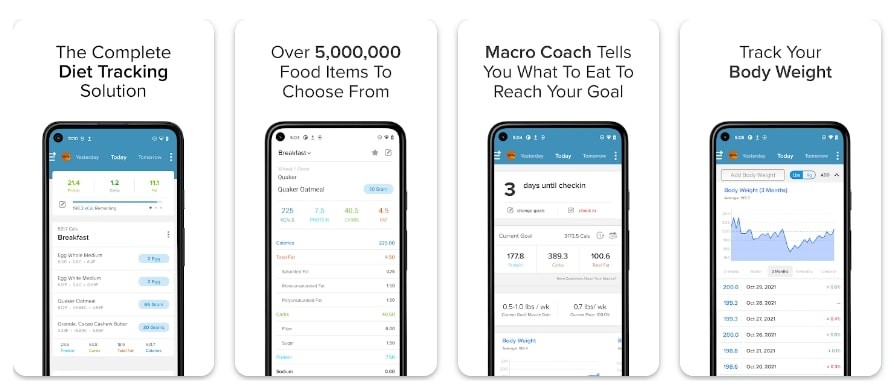 With access to millions of components and food products, as well as guidance on how to achieve your dietary objectives, this app is the pinnacle of diet monitoring solutions. You will also get a visual to chart your growth while using this app.
Features
Measure your water intake in cups, ounces, millilitres, or gallons.
To speed up the process, review lists of your go-to foods or the meals you have consumed lately.
Custom menus curated from your favourite restaurants and food manufacturers

10 – MyPlate
Using the numerous healthy food ideas available in the MyPlate app, one can easily put up a balanced macro diet sheet that will last for eight weeks. These dishes are suitable for many different eating plans, including the ketogenic diet, the paleo diet, and many more. To connect with like-minded individuals who have an interest in physical fitness for the purpose of mutual support and information sharing is not difficult at all.
Features
Calorie and macronutrient tracking with this app are easy.
The tracker may be used immediately without any kind of upgrade.
The app syncs with the Google Fit system.

Wrapping Up
These applications for monitoring macros have earned really positive ratings and reviews in the app stores. They're all fantastic choices, but some may meet more of your criteria. While many of these apps may be used to keep tabs on your macros, many more health and fitness metrics are at your disposal. We are hopeful that you were able to narrow down your search with the aid of this article, which also highlighted some of the top macro tracking apps to use this year.