Samsung has recently made an exciting announcement about its highly anticipated Galaxy Z Flip5 smartphone. This sleek clamshell-designed smartphone comes packed with a plethora of new features, sure to catch the eye of tech enthusiasts.
The most noteworthy enhancement is the front "Flex Window" cover screen, which has received a considerable boost from a rather modest 1.9 inches to a more immersive 3.4 inches.
This meaningful increase in screen allows users to handle emails, send WhatsApp messages and even enjoy their favourite Netflix movies with greater ease and comfort.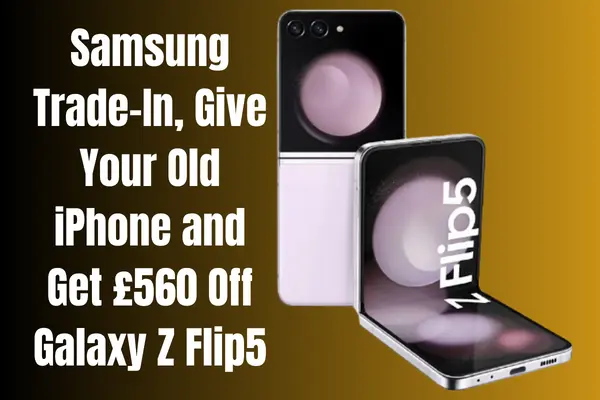 Display Features
Taking a look at the inside, users are greeted by a sizable 6.9-inch main screen, which now boasts a speedy 120Hz refresh rate.
This upgrade ensures super-smooth scrolling and an overall enhanced visual experience. Furthermore, Samsung has integrated an improved Snapdragon 8 Gen 2 processor into the Galaxy Z Flip5, which not only boosts performance but also contributes to better power efficiency, resulting in longer battery life between charges.
Camera Features
The smartphone's photography capabilities have also been revamped, thanks to the inclusion of new dual-lens cameras that deliver impressive results, particularly in low-light conditions.
Additionally, the device features a fast and responsive fingerprint scanner, as well as the convenience of wireless charging.
Price Tag
While the Galaxy Z Flip5 undoubtedly sounds impressive, potential buyers should be aware that all these cutting-edge updates come with a price.
Starting from £1,049, this flagship smartphone may have an eye-watering price tag for some. However, Samsung has taken measures to sweeten the deal for prospective customers.
Get Advantage of Trade-In Deals
For instance, those interested in purchasing the Galaxy Z Flip5 can take advantage of Samsung's enticing trade-in deals.
This deal allows customers to receive a significant discount when trading in their older smartphones. Depending on the model being exchanged, customers can save as much as £560 on their purchase of the Galaxy Z Flip5.
Here's a breakdown of the trade-in deals Samsung is offering:
Samsung Galaxy S23 Ultra – £560 off
Samsung Galaxy S23 – £420 off
Samsung Galaxy S22 – £300 off
Samsung Galaxy Z Fold4 – £560 off
Samsung Galaxy z Flip4 – £440 off
Apple iPhone 14 Pro Max – £560 off
Apple iPhone 14 – £400 off
Apple iPhone 13 – £320 off
Apple iPhone 11 – £220 off
Google Pixel 6 Pro – £260 off
Google Pixel 5 – £190 off
This enticing trade-in offer allows customers to enjoy substantial savings and bring the cost of the Galaxy Z Flip5 within a more budget-friendly range.
So, if you've been eyeing this new Samsung Marvel, don't miss the opportunity to secure a £560 discount through the trade-in deal. Click here to get the deal and experience the Galaxy Z Flip5's innovative features and up-to-snuff performance.