A cell phone is indeed a mandatory gadget for almost everyone nowadays, but not everyone is the same with the same needs. There are different people among us with different needs, and thanks to the latest and greatest technology, there is something for everyone's taste.
So, if you're looking for cell phones for blind people or anyone who has vision-related problems, this is then the right place for you.
Here on this page, we have listed down a wide range of innovative cell phones, especially for the blind and visually impaired people. All listed below gadgets are quite helpful not only in making or receiving calls but also for texting and listening to music. So, let's get it on without wasting even a minute further.
1: Motorola Moto G6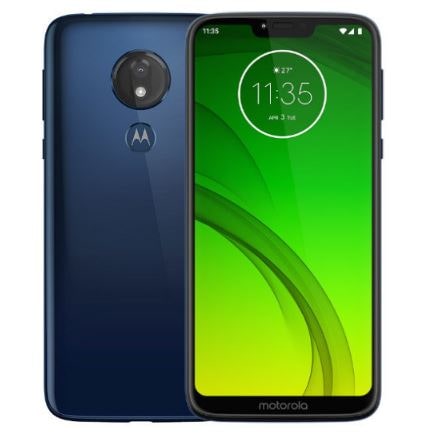 Thanks to its eye-catching price point, Motorola Moto G6 is an excellent alley for you. It's a solid mid-range smartphone that doesn't set you back a whopping, and its built-in features are more than satisfying i.e., HD display, superb camera sensors, and others – making it a good choice.
Calling it the best Phone for Blind Person or visually impaired person wouldn't be wrong as it has Speech Recognition, Full Voice Control Dedicated Keys, Google Assistant App, and Magnifying glass for Ready Reading.
2: Samsung Galaxy Note 8
If you're not short on budget, Samsung Galaxy Note 8 would be an outstanding option for you. It's loaded with a massive display and plentiful great specs and features.
Whether you're looking for Talking Mobile Phones for the Blind or visually impaired people, Galaxy Note 8 is the best option – thanks to its huge HD display, which is also its major selling point.
The features making Galaxy Note 8 an ideal phone for blinds include Google Assistant App, Full Voice-activated Control, Text-to-Speech, Magnifier App for Easy Reading, and Speech Recognition.
3: Alcatel 3C 5026D 3G Dual SIM
Don't you have much to spend to get your hands on a Phone for Blind People? Alcatel 3C could be an excellent option for you. This Alcatel 3C is loaded with incredible 6-inches display, which is marvellously budget phone, and interestingly, the display is its real selling point.
It's an ideal cell phone for visually impaired or blind people because of Voice Typing with Voice-Activated Control, Simple Launcher, Magnifying Glass, and Google Assistant Button. The on-screen keyboard, however, is a bit awkward, but users can download another one from Play Store.
4: Apple iPhone SE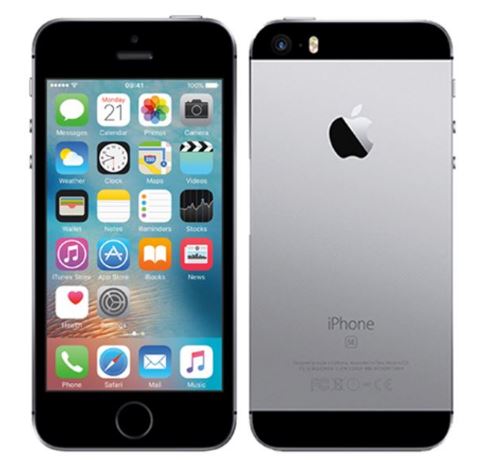 What makes an iPhone SE one of the best and Talking Phones for the Blind UK? The phone sports quite a few mind-boggling features such as Ease of Use, Full Voice-Activated Control, Speech Recognition, Dedicated Keys, Google Assistant App, and Magnifying Glass.
It's also an alternate for a mid-range buyer with many more features to entice. It has a 4-inches display, dual-core power, and 2GB RAM with enough internal memory to store loads of files and other data.
Interestingly, a visually impaired person can download many vision impairment apps from the Apple Store, and its VoiceOver capability makes it's a great choice too.
5: Maxcom Comfort MM715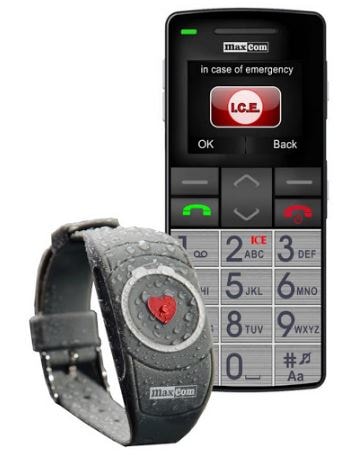 This perfectly designed Maxcom Comfort MM715 is one of the best Talking Cell Phones for the Blind as well as visually impaired persons. This phone is specially built for those with visibility issues. It comes with a wristband that comes alongside it.
This cell phone is loaded with a dedicated SOS switch, and when you press that button, it automatically dials an emergency number. Importantly, the band offered with this phone is waterproof and has a range from approx. 20 meters to 100 meters.
6: Binatone Blade Retro Flip Phone
Simplicity should be your priority when you look for Talking Phones for the Blind or those with bad eyesight. This flip phone can be your choice as it's nice and robust with an option to answer calls when flipping it open. It, too, has a number keypad instead of a touchscreen.
The display, however, is small but not a touchscreen, and thanks to its high contrast with big text, you're enabled to read with ease. You can add additional memory (up to 32GB), so it shouldn't be a problem for storage. And the vivid bright colours (and red included) make it easy to find the Blade.
It's an ordinary phone, but sports many enticing features, I.e., Talking Buttons, SOS Key, Large Raised Buttons and Backlit Keypad for Low-vision.
7: Binatone M250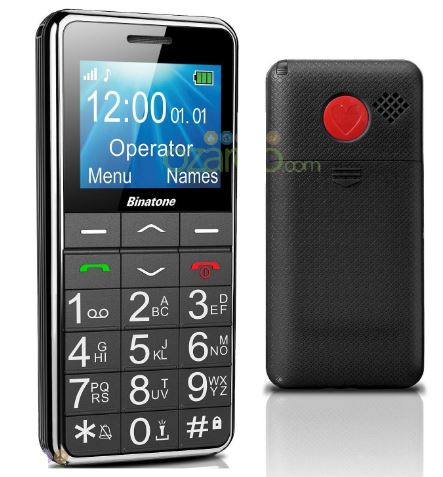 Although Binatone M250 isn't a Voice Activated Phone for Blind but it can be your choice if you are looking for the most basic phone for your loved ones. It's also the best phone for easy to use and less confusing. Although designed for older users, it is tailored for those who are visually impaired.
Screen once again does not touch and it's quite small. It, however, has the highest contrast with the extra biggest text that makes it much easier to use. The numbered keypad is large and lifted so that you know how to call the correct number, the number is speaking when you press it.
There is also an emergency contact button that works very much like the Maxcom Comfort MM715 phone. Other features include Large Raised Buttons, SOS Key, Talking Buttons, and a Backlit Keypad for Low-Vision.
8: Big Digit Senior Phone M271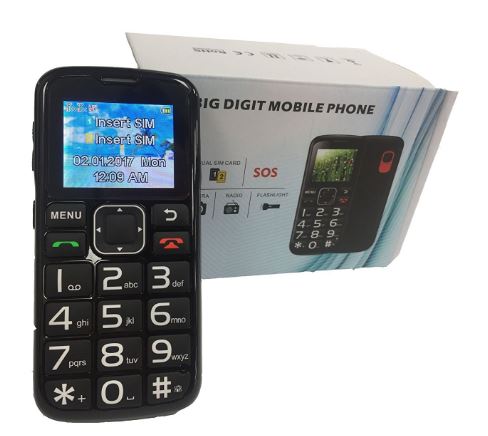 Last but absolutely not least, Big Digit Senior Phone M271 is a quite impressive Phone for Blind or visually impaired people. Itself Big Digit makes it an awesome buy – though it's a basic and simple phone without any extra features.
The keyboard is large enough and elevated so you can navigate very easily. And again, you have the possibility of speaking numbers so that you know that the correct number is called.
The broad SOS button can be set up to call not only emergency services but also relatives, carers, or family members in case of an emergency.
As with many basic cell phones, the downside here is that it is too basic. It does not comprise the internet feature, lacks voice recognition, there are no apps and no camera.
It's, however, one of the best phones that is easy to use and can be your next choice – especially for those who are looking for a phone for visually impaired or blind people.
Our Last Words
Cell phones play a significant role in effective communication without a doubt. As people are different, therefore, different technology is needed for them. Our listed above best Talking Mobile Phones for the Blind UK ensure that there is something for visually impaired and blind people.
So, if you're confused and cannot pick up a cell phone for your loved blind person, our list has got you covered. Let us know in a comment section below which one you have picked or which one you are looking to get your hands on.