Almost every one of us has scratched the screen of our phone at some point. And that's really easy to do, right? Well, the act of just placing the smartphone in your pocket has the potential to damage it, particularly if there is dust or sand is there inside your pocket.
Gorilla glass, which is often used these days, is a very tough material, yet it is still possible to damage your screen despite the manufacturers' best efforts.
As such, it is essential to use a screen protector. Screen protectors come in either plastic or glass, but which is better, and what are the differences between the two? This is exactly what we'll be discussing in this article. So, let's get on it without wasting further ado!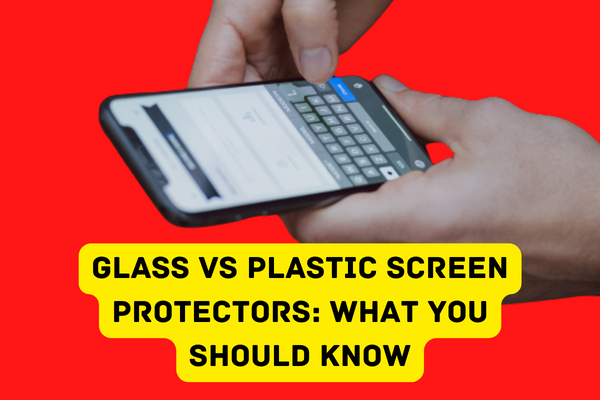 What Does a Screen Protector Actually Do?
Always make sure you understand the benefits of a screen protector for your smartphone before we go any further. Simply said, it adds additional protection. It has no effect on the real screen. However, your screen may still crack if you drop it badly.
And if you drop your phone and the screen protector edges touch a rock, the screen protector will crack. Just like putting on gloves, they protect your hands from becoming dirty or damaged.
While the gloves will protect your skin from cuts, they won't do anything to fortify your bones.
Plastic Screen Protectors
Indeed, no one likes to see the touchscreen of their phone damaged in any way. This is devastating, particularly if the phone was just purchased. A plastic screen protector is widely available and is often used to protect a smartphone.
Good about Plastic Screen Protectors
Plastic screen's reusability is quickly becoming the most common argument in favour of its widespread use. It is possible to remove the screen at any moment and reuse it at a later date. This is a good technique to make it last longer.
In addition to its obvious durability, it also resists cracking when dropped from a great height onto a hard surface.
When compared to a glass screen protector, the plastic alternative is far more affordable.
Bad about Plastic Screen Protectors
Protectors made of plastic have a thickness of around 0.1 mm and are readily scratched. As a result, scratches are also readily apparent.
Plastic protectors get dirty and look bad over time, which makes your phone look bad even though it looks great otherwise.
Its thickness is extremely low when compared to glass. You can't go with thicker plastic protection since it will be less sensitive to touches.
It's easy to leave fingerprints and smudges on a screen with this particular screen protector.
The plastic screen protectors will not provide 100% protection for your screen's glass surface, leaving it vulnerable to scratches. So, with time, those little scratches will expand into gaping holes, making your smartphone unattractive and unusable.
The absence of curved edge protection here indicates that the edges won't be covered completely.
Last but not least, the installation of a plastic screen protector is a lot more complex and difficult.
Glass Screen Protectors
In a nutshell, they have all the advantages that plastic ones lack. If you want to protect your phone's display without damaging the frame, they are your best bet.
A glass screen protector is created by applying the glass to extreme heat and then rapidly cooling it. Extreme heat and subsequent quick cooling make the glass very durable.
In addition to the glass itself, a screen protector often has additional layers such as a nano-oleophobic coating, an anti-shatter film, and a silicone coating that allows for penetration.
Due to the addition of these compressed layers, glass is up to five times tougher compared to regular glass and can withstand significantly higher temperatures without breaking.
Good about Glass Screen Protectors
Using a glass screen protector improves your phone's usability. In comparison to a plastic screen cover, the responsiveness to touch is much better.
It also looks far nicer than just the plastic screen cover. A correctly installed glass screen protector for your smartphone will not be very noticeable.
It's sturdier and can withstand more damage than a plastic shell could, so your phone will be safe in your hands.
With a glass screen protector, keys, coins, and other small metal items won't be able to scratch the screen of your smartphone.
The oleophobic layer aids in keeping the surface clean and fingerprint-free. A simple wipe with a damp cloth is all that's needed to remove fingerprints and other dirt from the screen. Hence, no cleaning solution is required.
You'll be able to see and feel everything with crystal clarity and responsiveness to your touch.
Glass protectors for screens also provide anti-spy protection, something that can't be said of plastic ones.
Glass screen protectors are simpler to apply than their plastic counterparts.
Bad about Glass Screen Protectors
Glass screen protectors may be more expensive than their plastic counterparts.
You won't be able to reuse a glass screen protector that has been cracked since it might cut your fingers.
Conclusion
Screen protectors, whether made of plastic or glass, play a vital role in saving you from the hassle and cost of fixing or replacing a cracked smartphone display. BTW, which one would you recommend using for your own smartphone? Let us know in the comments section below.