Gboard – Google's Keyboard is fully loaded with a plethora of attention-grabbing features, and interestingly, it works perfectly well like many other 3rd party keyboards. Another reason behind its popularity is that it's not only quite spontaneous but stable as well.
However, a recently released update by a company to Gboard is causing a problem – crashing issues, faced by hundreds of thousands of Android users worldwide. This Gboard keeps stopping the problem, according to some users, is locking them out of their devices.
These growing threads on Twitter, Reddit, and Google's Support Forum confirmed that the recently released update has some serious bugs that need to be fixed as soon as possible.
The update was released back on December 17th, 2019, and now has been rolling via Google Play Store, hence, the user has started facing crashing problems and their Gboard not working properly as they should.
We have listed down why Gboard Keeps Stopping and How to Fix it. But first, let's see what's Gboard in detail and what's wrong with it.
A Complete Guide on What's Gboard and How to Fix its Crashing Issue on Android
"The Gboard has Stopped or not working only for Android users so far, whereas reports from iOS users regarding this problem haven't yet been received."
What is the Gboard App?
As mentioned above, Gboard is a Google Keyboard – developed by Google for its Android users as well as iOS users. It was first released back in May 2016. Since its official release, Gboard has undergone numerous updates for better experience and improvement, of course.
Some of the best features of Gboard include Google Search, Emojis, GIFs Searching and Sharing, Predictive Typing Engine, Suggestions of Words, and Different Languages Support.  This is, in short, a piece of software enabling users to put characters into their Android devices without even the need for physical keys.
What's the Reason?
As of now, forums and other online platforms have no official acknowledgment of that issue but based on a report published by a Twitter User CJ Hearn, a major reason why Gboard has Stopped Working is the @motorolaUK update which means you are not even able to unlock your Android device once it's locked.
A handsome number of users also reported that the app crashes over and over again – but it is not clear if they used Motorola phones or any other brand's smartphone. Here is how to fix Gboard Keeps Crashing on Android.
1: Make Gboard a Default Keyboard
You need to make sure that Gboard – Google Keyboard, is your device's default keyboard so that you can fix the problem quite conveniently. We have gone through numerous reports regarding the Gboard crash caused by the encounter between the system's keyboard. Therefore, before implementing a solution, you're required to make it as your default keyboard.
Here is how you can set Gboard as your default keyboard in your device:
Open Your Device's Settings and Choose System
Choose Languages & Input
You will See an Option Current Keyboard – Choose Gboard
2: Clear Data and Cache
Most of the time, setting Gboard as a default keyboard can help you fix that problem with ease, but if it doesn't work, you should then clear the data as well as cache from Gboard. It's because chances are locally-stored files in your device are causing that problem with your Google Keyboard. Therefore, it's recommended to reset your Gboard by following these steps.
Open Your Device's Settings and Choose Apps
Select Manage Apps/Apps Manager/All Apps
Open Gboard App
Tap Storage and Clear Cache first and Clear Data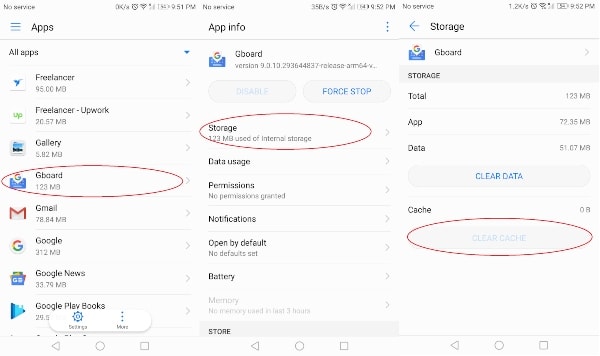 It's to be noted that clearing cache and data means your Gboard app settings will be reset entirely
3: Uninstall Updates or Reinstall App Again
Although removing cache or data sometimes helps users fix the problem with ease, but what if it doesn't work? Well, uninstalling an app or reinstalling it a bold move. And if your phone has built-in Gboard applications, you can then remove at least recently installed updates. So, uninstall the updates, restart your phone and update the app again to its latest version and see if this helps. Here is a step-by-step guide on how to reinstall the Gboard app on your Android device:
Navigate Your Phone's Settings
Choose All Apps/Apps Manager/Manage Apps
Choose the Gboard App and Tap Advanced > App Details
You'll be Redirected to Google Play Store to Uninstall it
Uninstall and Install Again and Restart Your Phone
To uninstall updates, you need to navigate your phone's Settings and Choose All Apps/Apps Manager/Manage Apps and then choose Gboard.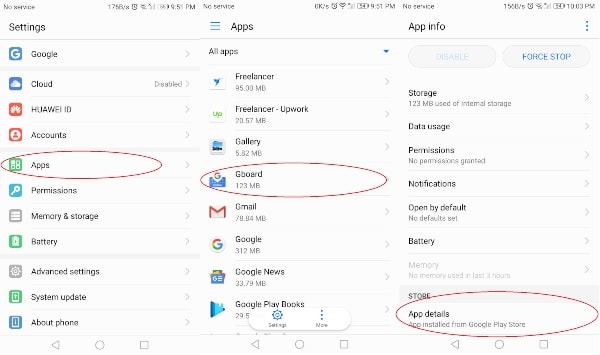 Install Older APK or Enroll Beta Program
Last but by means no the least, if none of the listed above solutions help you get rid of Gboard Not Working Android problem and crashes over and over again, we have something more recommended for you.
The first is to visit the Play Store to navigate Gboard and enroll Beta program. Most of the users who are beta-testers say that it is often more reliable than the public version, whether you believe it or not. Importantly, some users have said that they have Beta version, and they are free from any kind of problem.
Additionally, you can search APK Mirror or any APK portal that can add sideload APKs. Download an older version of Gboard once there and then update. After going through this process, your Gboard app wouldn't crash any further.
Wrapping Up
After going through a plethora of reports and problems faced by users across the globe, Google has already rolled out another update to fix Gboard Keeps Stopping problem. However, it's highly recommended that you should stick with an older version of Gboard for quite a while and keep an eye on all major forums and see if that bug has been fixed securely.