We're looking forward to the arrival of Vivo's next NEX 3 5G smartphone. It has a lot of interesting functions like the very curved edges with the waterfall screen.
The phone has got plentiful incredible looking specifications such as Qualcomm Snapdragon 855 Plus Octa-core Processor and a triple-camera configuration. We have now a teaser which finally reveals 16 September as a launch date.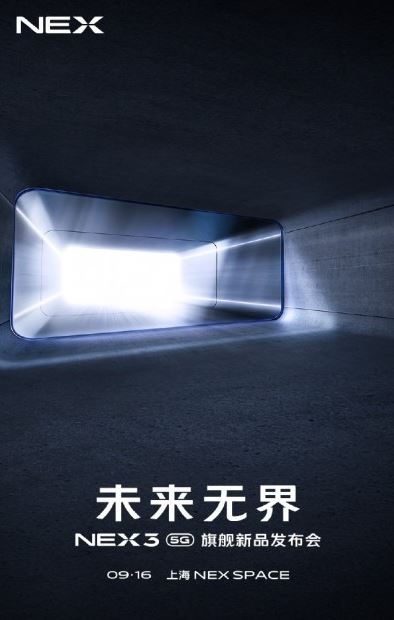 It obviously means that Vivo NEX 3 5G is right around the corner. We had mentioned in our previous articles that Vivo NEX 3 5G will be released somewhere in September but never expected it to be in the middle of the month. We understand a lot about the coming device with this in particular with the leaked data that appeared earlier today on Weibo.
The Vivo Nex 3 5G Specs, based on details shared on Weibo, is equipped with a gigantic 8GB and 12GB of RAM with three different options in terms of storage, i.e. 128GB, 256GB, and 512GB.
The most appealing and most significant selling point of the phone is definitely going to be a 3.5mm headphone jack, and it's loaded with a hefty 4500mAh non-removable battery alongside 44W super-fast charging support.
In terms of display, Vivo NEX 3 5G is holding the biggest 6.89-inches AMOLED display with highly curved edges as you can see in revealed images. The device weighs 218, and it's equipped with 167.4 x 76.1 x 9.4 mm dimensions.
Either it comes in multiple colour options or not, we are not sure, for now, but we can expect to see more colour options as soon as it arrives in stores.