Samsung has been in the tech industry for a long time, and it's no different when it comes to Samsung's smartwatches lineup. With exquisite analog dialers/faces, authentic ticking sounds, and watch hand shadowing, Samsung's smartwatches make us feel like a real watch. So, how do you think about selecting a one?
Interestingly, no matter which Samsung's smartwatch you get your hands on, every single piece works perfectly. As smartphones are getting bigger more and more day by day, it's rather nice for so many of us to look at our watches to see the time as well as who is emailing, texting, calling, and so on. Today, we have assembled quite a few Best Samsung Smartwatches 2019 for men alongside their features, pros, and cons to help you buy the right one with features you actually need.
1: Samsung Gear S3 Classic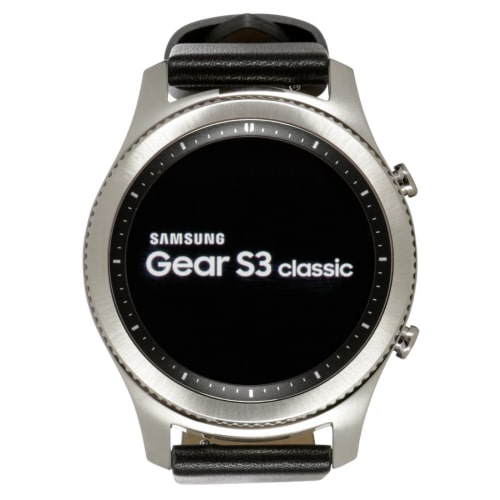 Key features
Dimensions: 49 x 46 x 12.9 mm
Weight: 59 grams
Display: 1.3" Super AMOLED (360 x 360)
OS: Tizen based Operating System
CPU: Exynos 7 Dual 7270 (14nm)
Memory: 768MB and 4GB Internal Storage
Battery: 380mAh
The title of "Best-reviewed Samsung's Smartwatch" goes to Samsung Gear S3 Classic even in 2019. This gorgeously designed Samsung Watch has got everything one would need. It has marvellous build quality as well as a vivid and bright 1.3" Super AMOLED display with a maximum resolution of 360 x 360 pixels.
Moreover, it's running on Tizen based Samsung's operating system, which is spontaneous and comes loaded with a plethora of useful apps. A rotating bezel is one of the most appealing and desirable features of this watch, giving a satisfying click when turning.
Without even touching the display, it enables you to navigate the OS in a jiffy, and most important of all, it's one of the super-fastest smartwatches with 768MB RAM and Exynos 7270 Chipset.
2: Samsung Gear Sport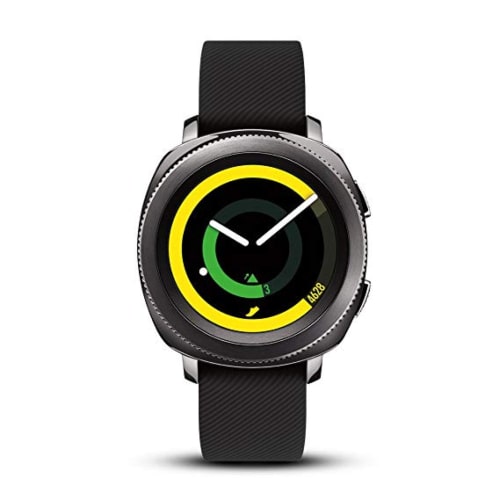 Key Features
Dimensions: 44.6 x 42.9 x 11.6 mm
Weight: 67 grams
Display: 1.2" Super AMOLED (360 x 360)
OS: Tizen based Operating System
CPU: Exynos 3250 Dual
Memory: 768MB and 4GB Internal Storage
Battery: 300mAh
Samsung Gear Sport is the latest Samsung Smartwatch, with its 5ATM water resistance score, GPS and GLONASS positioning systems, and waterproof silicone watch string. Very much like other smartwatches, it has a rotating bezel, and NFC is also packed into the frame of the Sport to allow you to pay via Samsung Pay app for card-free things.
This is a very well-made smartwatch, and it becomes clear when picking up one for yourself. The solid metal frame is impressive, and the screen of a 1.2″ is lovely with a sharp 360 x 360 resolution and bright colours.
This is the Best Smartwatch from Samsung for everyone, as it is compatible with devices running Android 4.4 and older, or iPhone devices running at least iOS 9. In short, calling it today's one of the best smartwatches wouldn't be wrong.
3: Samsung Gear Fit2 Pro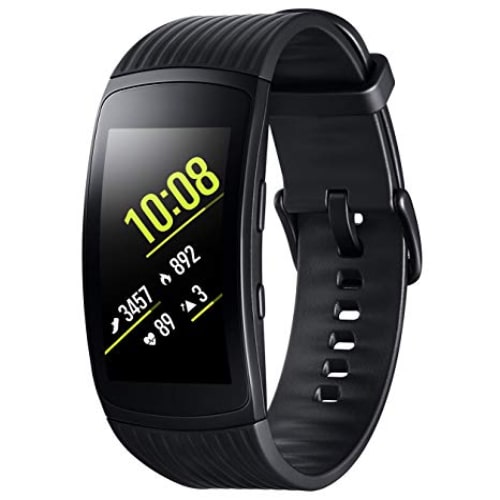 Key Features
Dimensions: 51.3 x 25 mm (H x W)
Weight: 34 grams
Display: 1.5" Super AMOLED (216 x 432)
OS: Tizen based Operating System
Bluetooth Version: 4.2
Wi-Fi: 802.1 a/b/g/n/ac
Memory: 500MB and 4GB Internal Storage
Battery: 200mAh
Samsung Gear Fit2 Pro falls in between a fitness wearable and a smartwatch. This watch looks more likely a Fitbit Style as compared to a smartwatch, but it's still loaded with an LCD display, shows heart rate, time, and burnt calories. You can use it in a pool or can wear it in a shower as it's capable enough to survive up to 50m with ease.
Besides, Gear Fit2 Pro works like a music player alongside an option to get your favourite song downloaded. Thanks to its elastomer, you would now not feel to have it broken. The tracking of the heart rate is also ongoing, and reliable data and statistics can be received.
While you are unable to respond to text and call, notifications are still available to you so that you know whether or not you need to pull your mobile phone out of your pocket. The best part of the Fit2 Pro is that it can last for up to five days upon a single charge.
4: Samsung Galaxy Watch 46mm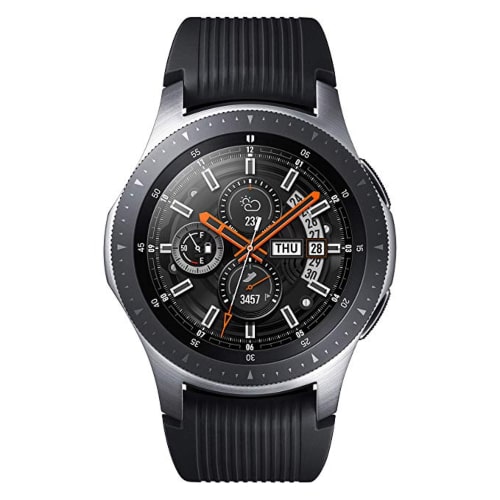 Key features
Dimensions: 46 x 49 x 13 mm
Weight: 63 grams
Display: 1.3" Super AMOLED (360 x 360)
Strap: 22 mm
Battery: 472mAh
AP: Exynos 9110 Dual-Core 1.15GHz
OS: Tizen Based Wearable OS 4.0
Memory: 1.5GB RAM and 4GB Internal Storage
Compatible with: Android 5.0 or Higher
It's the Best Samsung Smartwatch for Men as it is a more elegant affair as compared to several alternatives due to its 46 mm length. The watch face uses a Super AMOLED 1.3-inch screen, which is the finest Samsung has ever utilized. It means that the faces of the watch look less electronic and more conventional than many others.
It fits well for watch enthusiasts who don't want smartwatches more technically. It's also the fastest Galaxy smartwatches on Samsung that toggle between apps, and it doesn't miss a puck. It also offers a large surveillance system (accelerometer, gyro sensor, barometer, GPS tracking, heart rate, and light sensor).
5: Samsung Gear S3 Frontier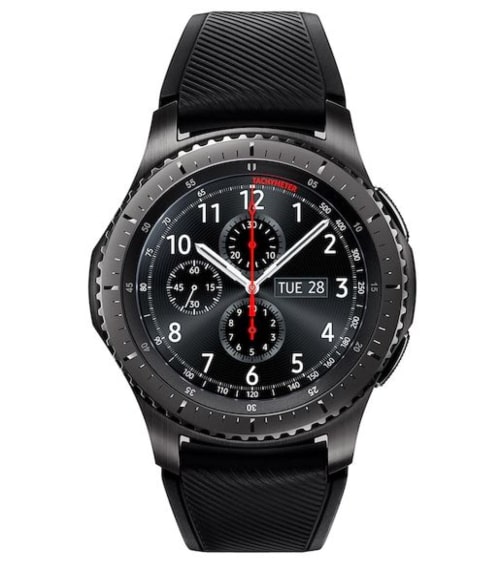 Key Features
Dimensions: 46 x 49 x 12.9 mm
Weight: 63 grams
Display: 1.3" Super AMOLED
OS: Tizen based Operating System
CPU: Dual-core 1 GHz CPU
Memory: 768MB RAM and 4GB Internal Storage
Battery: 380mAh
Samsung Gear S3 Frontier is absolutely right up there if you are looking for the Best Samsung Watch. It has a very smart rotating bezel for smooth device switching, and one of the most premium builds on the market of any smartwatch. It feels like a costly intelligent clock and particularly has a rich feature.
The Samsung Gear S3 Frontier smartwatch has a water-resistant IP68 system, Samsung's latest 1.3" Super AMOLED system always-on display and offers up to 4-Day battery upon a single charge. It is loaded with an optical heart rate sensor into its frame and features a wireless charging system and built-in a GPS. This Samsung's smartwatch is more rugged.
This watch enables you to receive notifications, calls, and texts directly to your wrist. You can even make and respond to hands-free calls through its built-in speaker and microphone. Other intelligent features include the ability to pay via Samsung Pay, which saves your time to get your wallet.
Checking smartwatch's combability with your smartphone is a bold move before buying. Make sure you go through all watches with care and pick one with features that match your lifestyle. Price is another most important factor to consider as there are hundreds of Smartwatches under £100 with mind-boggling features to entice users. Keep battery life in your consideration too and decide which apps you would like to have in your watch as not every Samsung's smartwatch support every application.