Our Verdict:
Regardless of its unique design and concept, Galaxy Z Flip doesn't stand out in a crowd among other foldable smartphones.
However, it's having quite a few things right as compared to Motorola Razr including slim design, bigger battery life, 6.7-inches massive display and much more. Frankly speaking, all these features don't make sense for paying a plethora of money for a smartphone which goes against the beast, i.e. Samsung Galaxy S20 Ultra.
The S20 Ultra is loaded with many more improved and advanced features except the foldable display. After having a look at Galaxy Z Flip, it seems that the future of foldable smartphones hasn't decided yet, but Z Flip an awesome concept, and it's quite versatile if you really love it.
Unfortunately, Samsung received a lot of criticism against its first, in fact, the world's first foldable smartphone Galaxy Fold worldwide. The reason behind was its fragile build as well as the luxury price tag that actually disappointed users.
Despite criticism, Samsung successfully made half-a-million sales worldwide, and now things seem to go extra miles with its newly launched Samsung Galaxy Z Flip in the UK, US, and Korea.
According to Samsung, Galaxy Z Flip is a young and fashionable foldable smartphone which one can keep in his small pocket conveniently.
It's indeed world's first foldable smartphone with a unique folding concept, ready to appeal to many users and to go head-to-head with Motorola's most luxury foldable smartphone named Moto Razr.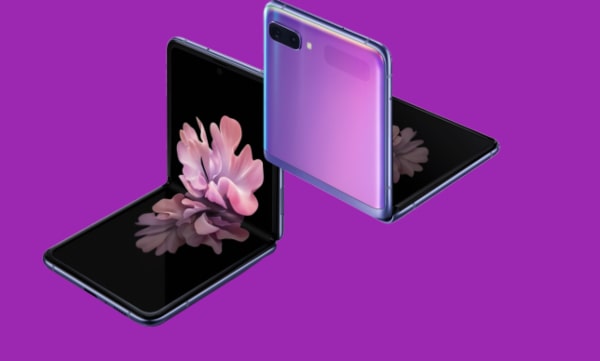 Release Date & Price
Official Galaxy Z Flip Release Date is Feb 14
Available in the UK, US, and Korea for Now
The Galaxy Z Flip Price is £1300 (approx. $1380/AU$2050)
Samsung revealed its Z Flip foldable smartphone on Galaxy Unpacked event back on February 11th alongside Galaxy S20 in San Francisco.
The official Samsung Galaxy Z Flip release date is February 14th in the United States as well as the UK. The phone will be available in Korea as well with limited quantities.
Back in 2019, Samsung announced its first Galaxy Fold smartphone at the time but didn't arrive on its scheduled deadline. It's a separate issue, however.
Coming back to Z Flip, it's available on UK shelves and US shelves but the Australian audience has to wait a little more to get their hands on one. The exact amount of time isn't yet confirmed.
As for Samsung Galaxy Z Flip Price, it set users back a whopping – £1300 (approx. $1380/AU$2050), very much like all foldable smartphones.
This gorgeously designed phone is likely to cost more than 1 million Korean Won in Korea, which after conversion comes to around $840 and would significantly cheap as compared to Motorola Razr foldable smartphone.
Design
3 x 73.6 x 7.2 mm Unfolded Dimensions
4 x 73.6 x 17.3 mm Folded Dimensions
Weight: 183 grams
Thin Glass Cover at Inner Display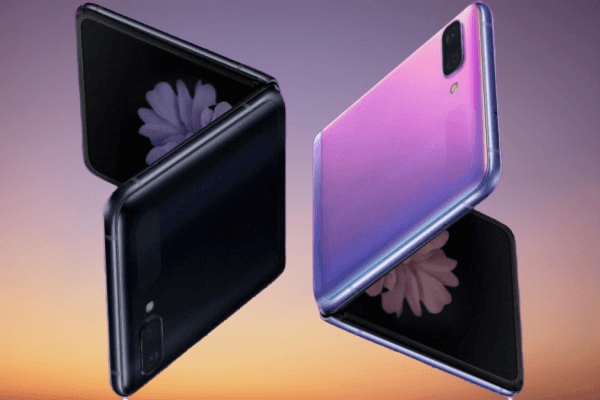 The Samsung Galaxy Z Flip doesn't compete S20 Ultra flagship in terms of specifications, but it doesn't mean Z Flip has nothing to surprise. The major difference between Galaxy Fold and Z Flip, it can be bent inside that stretches from top to bottom. The Moto Razr too sports a similar design.
When it's unfolded, it doesn't look like Galaxy Fold which becomes a mini-tablet. The phone has a 6.7-inches Full HD+ display with an aspect ratio of 12.9:9 that feels marvellously good when holding in hand.
Besides, when it's unfolded, it looks like an Android flagship smartphone if you don't pay attention to its faint crease. The small 1.1-inches AMOLED display "Cover Display" outside of the phone keeps you informed about incoming calls or other notifications.
The small display too shows battery life and time shown on this small screen as well. The interesting thing in terms of its design is its thin glass that covers its inner screen.
It's weighing only 183 grams and has a USB-C port for charging on the bottom whereas a fingerprint scanner is positioned on the side of the phone. Unfortunately, it doesn't comprise a standard 3.5mm headphone jack
What is Thin Glass?
Ultra-Thin Glass is Used for Smooth Swipe
Quite Durable – Hence, It Wouldn't Break Easily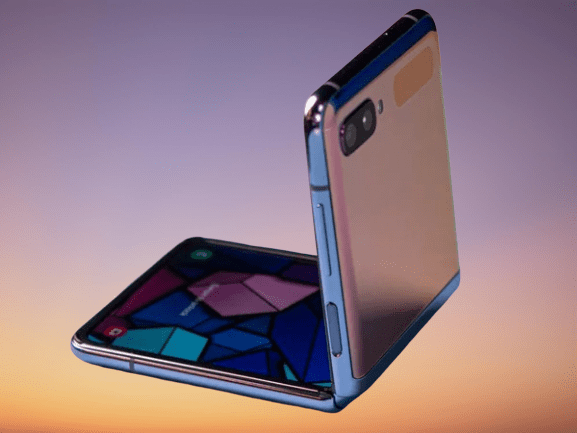 The Samsung Galaxy Z Flip display consists of an Ultra-Thin Glass which we have already seen in other foldable smartphones like Galaxy Fold and Motorola Moto Razr.
This glass-based approach adopted by Samsung is quite smooth to swipe across the display with a frictionless feel. It's identical to Corning Gorilla Glass which is usually found on non-folding mobile phones. You wouldn't realise that you are using entirely new display technology.
Most important of all, an Ultra-Thin Glass feels very much durable even quite rough when you hit on it. You will feel like the phone is not in the danger of failure, which was also not the case with Samsung Galaxy Fold. Nonetheless, we are quite sure it's a sturdy, foldable smartphone to use without getting worried about its display.
Display
7-inches Dynamic AMOLED Display (1080 x 2636)
1-inches Small Super AMOLED Display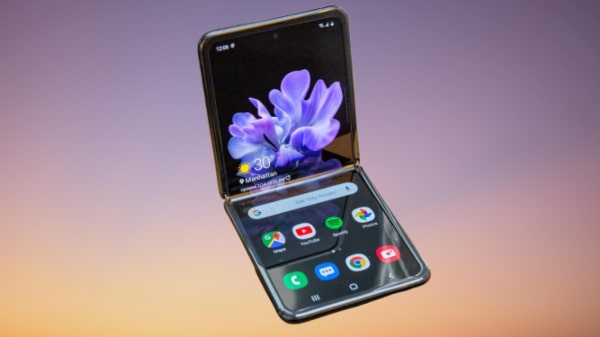 The display of Samsung Galaxy Z Flip can be turned into a split-screen when bending it an angle. It has a display size of 6.7-inches based on Dynamic AMOLED technology with a maximum resolution of 1080 x 2636 pixels. It's the same claimed by Ishan Agarwal not so long back and also confirmed by WinFuture as well.
There is a small display outside with a size of 1.1-inches – based on Super AMOLED technology for notifications, incoming calls, battery and time.
Its major display is quite small as compared to the original Galaxy Fold which has a 7.3-inches AMOLED display. The Z Flip is actually a rival of Moto Razr which manages to hide its folding points sharply and which has built-in plate support to protect the display portion.
Samsung has used plastic for Galaxy Fold's internal display, allowing users to fold at the cost of durability. But Z Flip, as mentioned above, is loaded with thin glass for its inner display to provide users with smooth swiping experience alongside a boost in display quality.
Camera
12MP + 12MP Rear Cameras
10MP Front Camera
2160p Video Recording at 30/60fps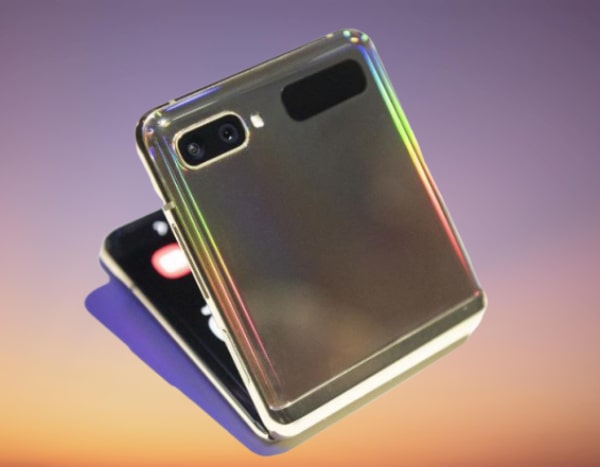 Taking a look at Galaxy Z Flip's camera department, Samsung configured dual cameras on its rear. Indeed, it cannot compete Samsung's most powerful device Galaxy S20 Ultra which comes with quad-camera configuration outback.
The Z Flip foldable smartphone is comprising a 12MP ultra-wide camera lens which works with another 12MP wide-angle camera lens to provide you sharp and detailed images even in low-light conditions.
On the front, on the other hand, there is a small cutout in the display to sport a selfie snapper, very much like Samsung Galaxy S20 smartphone. When it's unfolded, there is a single 10MP front-facing camera which an assist you in selfies and video calls both.
The front camera and back cameras aren't yet tested. As soon as online sources go through their hands-on reviews, we will have those details here.
Under the Hood
Qualcomm Snapdragon 855+ Chipset
Adreno 640 GPU
Android 10 Operating System
8GB RAM with 256GB Internal Storage
Samsung launched its Galaxy Z Flip foldable smartphone with Qualcomm's most powerful Chipset – Snapdragon 855+ which can be seen on gaming smartphones.
The Chipset is partnered with a gigantic 8GB RAM to offer users with super-smooth and glitch-free performance when working on multiple apps at once or playing graphics enriched games.
The Adreno 640 GPU is responsible for its graphics, whereas 256GB onboard memory helps users store loads and loads of data with ease. Onto software, it's running on Android 10 operating system, hence, all exciting features and the smooth interface is offered.
Battery
Non-removable 3300mAh Battery
Fast Battery Charging 15W
As rumoured earlier, Samsung Galaxy Z Flip is loaded with 3300mAh non-removable battery with fast battery charging feature. The original Galaxy Fold's capacity is 4380mAh whereas its 5G variant comes with 4235mAh battery capacity.
Indeed, it's plentiful for full unfolded use. The Moto Razr smartphone, on the contrary, sports a suggestively smaller battery of 2510mAh.
The Z Flip is in between Galaxy Fold and Moto Razr, and we are expecting it to give users a respectable battery life with its middling display size.