The most anticipated Samsung Galaxy S11 or S20 has all set to be revealed on February 11 during an event in San Francisco. Frankly speaking, it's yet to be confirmed what will it actually be called – Either Samsung Galaxy S11 or Galaxy S20.
It's most likely that (and according to rumours) Samsung is planning to skip S11 name and come up with Galaxy S20 to match its name with this "2020" year.
The invites of Samsung Galaxy S11 or S20 have already been sent by Samsung for an Unpacked event which is going to take place in San Francisco on February 11th 2020. It's to be noted that everything mentioned here will be changed immediately after hearing an official announcement from Samsung (if details don't match to this page).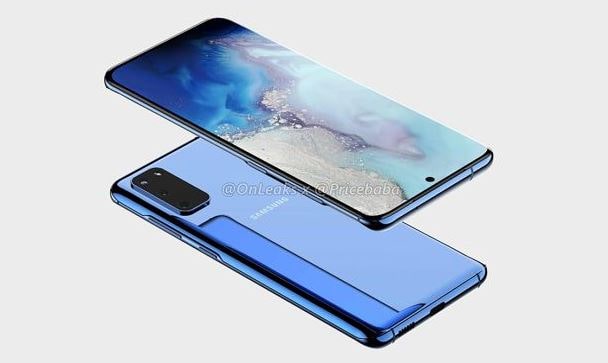 However, ahead of its official arrival, we have rounded up all Samsung Galaxy S11 or S20 rumours and leaks here as One-Stop-Shop for you. So, let's have a look!
Release Date and Pricing
As mentioned above upcoming Samsung Galaxy S20 (or maybe S11) invites have been sent for February 11 where Samsung will reveal its most-awaited and rumoured Galaxy S20.
Say hello to a whole new Galaxy. Unpacked on February 11, 2020 #SamsungEvent pic.twitter.com/ln1pqt2vu7

— Samsung Mobile (@SamsungMobile) January 5, 2020
The actual Samsung Galaxy S20 release date or sale date isn't yet disclosed but it's most likely to be in your hands in the first week or March 2020 if we consider official arrival of its predecessors. Let's not forget that last year's S10 lineup appeared on February 20th 2019 – giving us a hint that S11 or S20 would not put its fans on waiting for long to get their hands on.
How about Samsung Galaxy S20 Price? A tweet from Max Weinbach said that there will be five Galaxy S20 models this year named Galaxy S20, S20 5G, S20 Plus, S20 Plus 5G and S20 Ultra 5G.
Samsung Galaxy S20
Samsung Galaxy S20 5G
Samsung Galaxy S20+
Samsung Galaxy S20+ 5G
Samsung Galaxy S20 Ultra 5G

— Max Weinbach (@MaxWinebach) January 12, 2020
The Ultra 5G variant of this year's S20 lineup seems to lead its siblings with state-of-the-art features and best-in-class camera sensors but at an eye-watering price.
Well, Weinbach has tweeted all Samsung Galaxy S20 smartphones prices that after conversion comes to around $1110/ £850 for a standard S20 (or maybe S11), $1221/ £935 for its Plus variant and $1443/ £1105 for its Ultra variant.
So just heard S20 prices. Expect these to be lower than listed but at the moment we are expecting:

S20 5G: €900-1000
S20+ 5G: €1050-1100
S20 Ultra 5G: €1300

Galaxy Z Flip is supposed to be about €1400 but I expect that to change before launch.

— Max Weinbach (@MaxWinebach) January 20, 2020
We aren't sure about above these figures as some sources have indicated that the actual price will be less – around $200 which means that S11 (or maybe S20) would be cheaper as compared to its predecessor. And if it turns out to be true, it'll be a welcome from Samsung for its fans worldwide.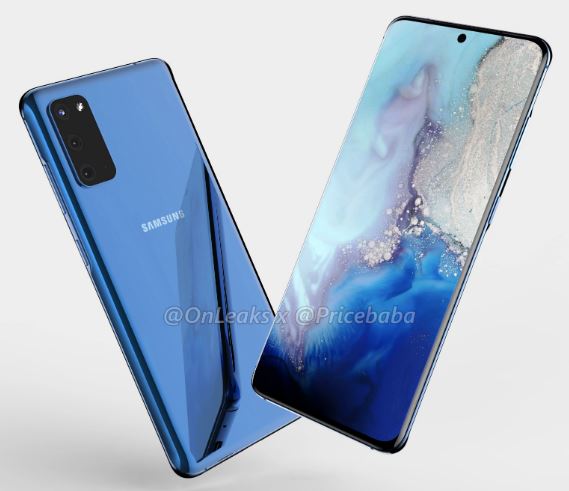 Expected Specifications
Dimensions: 152 x 68 x 7.9mm
Weight: 164 grams
Display Size:6.2-inches (3200 x 1440)
RAM & ROM: 12GB & 128GB
Chipset: Exynos 990/Snapdragon 865
Rear Cameras: 12MP Primary, 64MP telephoto, 12MP Ultra-wide
Front Cameras: 10MP
Dust/Water Resistance: IP68
Battery: 4000mAh
Colours: Black, Blue and Grey
What will it be Named?
All our previous guesses seem to be wrong about Samsung's pattern as we had thought about Samsung Galaxy S11, S11 Plus and S11e – similar to its predecessors. Now every single sign point toward a massive change (if rumours are to be believed).
According to the latest Samsung Galaxy S11 leaks and rumours, Samsung to launch S20, S20 Plus, and S20 Plus 5G. The Weinbach, on the other hand, revealed five variants (as mentioned above) – therefore, saying anything as of now is too prompt.
Keeping rumours and leaks into consideration, Samsung would follow its old naming scheme and this year's Galaxy S-series smartphones would be named Galaxy S11 line but again, a plethora of well-recognised sources like SamMobile have confirmed a couple of days back that Samsung will skip S11 and will go with Galaxy S20 instead.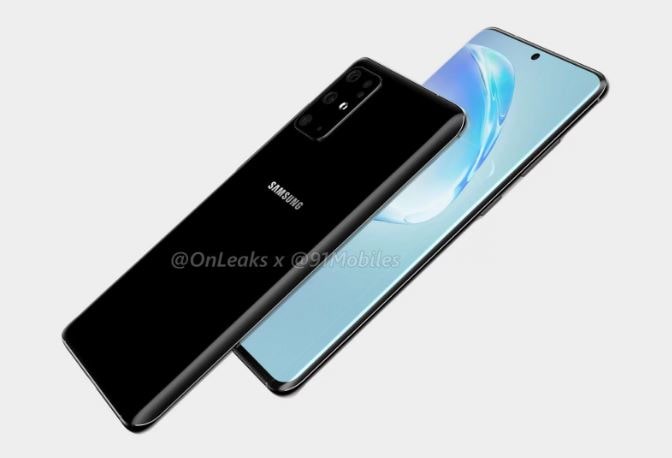 The Galaxy S20 seems to be accurate as previously it was just a part of rumours but now a bunch of hands-on photos has cleared that the upcoming Galaxy S-series smartphone is going to be named as Galaxy S20.
Design and Display
We are entirely relying on revealed Galaxy S20 photos in terms of its design and according to them, S20 or S11 seems a lot like Galaxy Note 10. The revealed photos indicated a front with all display and a selfie snapper is positioned in the center at top of the display.
The rear has four cameras – and overall design of S20 or S11 has a flattering look as compared to its previously released Galaxy smartphones. The back cameras will be positioned vertically and there could be a reason why three Galaxy S20 camera sensors would be stacked vertically and a remaining fourth shooting sensor would be pressed off at the side, according to Ice Universe. Perhaps, it would allow space for a periscoping mirror to increase the phone's optical zoom capabilities.
Again, Weinbach didn't only stop with a number of models and pricing details, but he posted a video alongside images and compared S10 Plus with this year's S20 Plus.
Here is a video of a the S20+ in hand. Shows off basically every angle. https://t.co/ViCyVM2isQ

— Max Weinbach (@MaxWinebach) January 14, 2020
Onto its display, a rumour has suggested that Samsung Galaxy S11 or S20 would be launched with a display size of 6.2-inches, S20 Plus with 6.7-inches, and S20 Ultra with 6.9-inches. That appears to be pretty massive phones and difficult to operate with a single hand.
The standard Galaxy S20 smartphone is expected to come in three different colours – Black, Grey and Blue. The display will have a refresh rate of 120Hz to offer users smooth interactions over 60Hz on S10 smartphones.
Aside from its 120Hz refresh rate, a leak has suggested 3200 x 1440 pixels resolution for all Galaxy S20 smartphones. That would definitely make it the best PPI count. The company looks to use a new "Screen Technology" as it has already trademarked name "SAMOLED." It appears to offer more punchy and vivid colours over AMOLED.
Camera
The Samsung Galaxy S11 or S20 camera configuration is rumoured to be 12MP + 64MP + 12MP with primary, telephoto and ultra-wide capabilities, respectively. Well, Samsung should come up with 108MP rear primary camera, according to users.
Rumours have said that this 108MP sensor will combine nine Pixels into one for 12MP images. One source has indicated a 5x Optical Zoom lens which could be 48MP – paired with a zoom lens. Things are pretty blurred about an ultra-wide-angle lens and a depth sensor too and it's not yet confirmed either we will see a macro lens or not.
It was also reported that Samsung is working on a periscope-like camera that enables 10x optical zoom and 100x digital zoom, once again for the Ultra S20, but it may only have a 5x optical view, although it seems that Samsung's would write 100x on the back of the phone.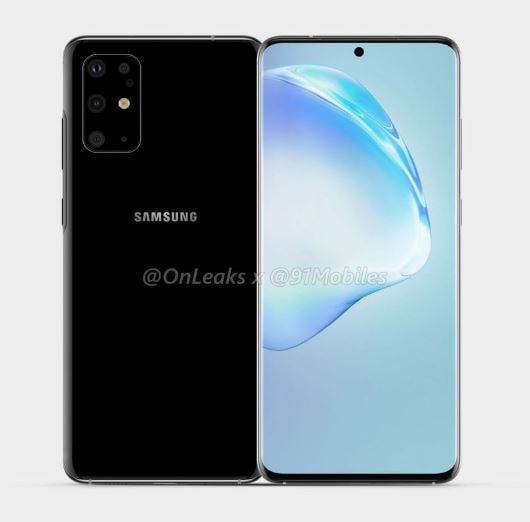 It is said that a figure of 30x is given for the "hybrid zoom." The actual photo leak shows that the S20+ has no periscope zoom, which is presumably only for the Ultra.
The front camera sensor will hold its position in a small cut-out which will be inside the display in the center of the phone. The most appealing thing is that it would replace all notches and users will get more screen to take their enjoyment to the next level.
RAM, ROM & Battery
We are pretty sure that Samsung Galaxy S11 or S20 will come with Snapdragon 865 Chipset for the United States and its own Exynos 990 Chipset for the rest of the world. The Chipset is said to be partnered with a whopping 12GB RAM and 128GB internal storage alongside an option to expand it further up to 1TB via external microSD card.
RAM & ROM configurations for the other variants like S20 Plus and S20 Plus Ultra, however, are not confirmed yet confirmed.
Last but absolutely not the least, we will have a greater battery capacity for S11 or S20 as compared to its predecessors. Based on a report shared by Ice Universe, a standard variant will arrive with at least 4000mAh battery (a jump of 900mAh over S10e) whereas Ice Universe suggested at least 5000mAh batteries for S20 Plus and S20 Ultra variants.
That's, indeed, massive over any other premium smartphone around and it would definitely help Samsung maintain its 1st position in the world of smartphones.
We can guess that the S11+ battery will reach nearly 5000mAh, which I think is prepared for high refresh rate screens and 5G.

— Ice universe (@UniverseIce) November 7, 2019
That's all we have heard about Samsung Galaxy S11 or S20 release date, official pricing details, rumoured specifications and features. We will have this page updated with the latest rumours and leaks as soon as more information drop. So, be sure to bookmark this page.