Realme during an event in India announced an Android 10 upgrade schedule for its 8 smartphones. The first and foremost Android 10 Realme Phones that will start receiving updates in Q1 include Realme 3 Pro, Realme X, Realme 5 Pro, and Realme XT
The update is scheduled to be received somewhere in the first quarter of 2020 and those who have Realme 3i, Realme 3 and Realme 5 will have to wait for the 2nd quarter of 2020 to enjoy Android 10.
And in the 3rd quarter of 2020, Realme promised to upgrade its Realme 2 Pro with Android 10. Besides, we are hoping to see Realme XT 730G, which is scheduled to be launched in December, with Android 10-based custom user interface onboard
Realme Smartphones Android 10 Update List
The schedule of Realme Phone with Android 10 Update leaves a lot of Realme low-end phones with Android Pie alone. These include Realme C1, C2, 1, 2 and Realme U1.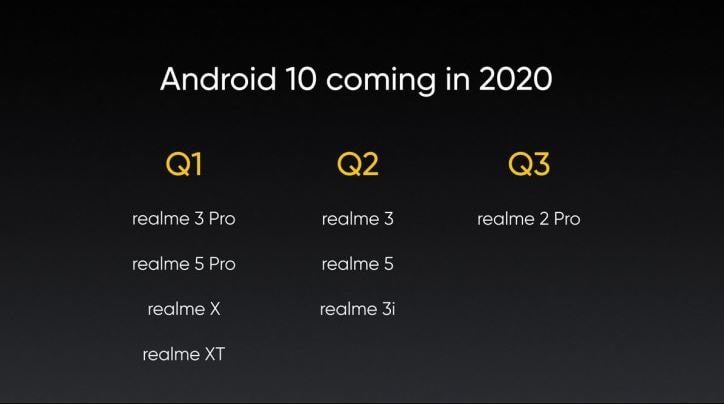 Today, the brand utilizes the custom skin of ColorOS Android on all its devices. But it is hopeful that the long-awaited RealmeOS, based on Android 10, will finally be burning when the brand announces the Realme XT 730G. The phone was in the rumour mill since January, but Realme confirmed its launch date back in August. It is already being tested by the business with a few customers. The RealmeOS will be available for all the smartphones, but all builds based on Android 10 are not necessary.
The Realme 1, 2, C1, C2, and U1 could thus be replaced by Android-based RealmeOS. We will at least have to wait until December to see if it actually rolls out.