A subsidiary company of Qualcomm Incorporated named Qualcomm Technologies has introduced another Mobile Platform – Qualcomm Snapdragon 865 5G.
This recently introduced Snapdragon 865 5G combines the world's most advanced Mobile Platform with the world's latest and advanced 5G Modem-RF System that promises to deliver super-fast connectivity and performance that new generation needs for their flagship devices.
Qualcomm Technologies announced Snapdragon 865 on December 3rd, but we are short on words on in terms of official Snapdragon 865 Release Date. This latest Chipset is said to be used in Upcoming Phones 2020.
This company's best-in-class Qualcomm Snapdragon 865 is said to provide speeds of up to 7.5Gbps, which surpasses many wired connections, without a doubt. This leading 5th-gen Qualcomm AI Engine provides more personalisation and intelligence.
Furthermore, it includes ultra-fast Spector 480 ISP (Image Signal Processor) that brings a plethora of new features to videography and photography – thanks to 2 Gigapixels speed per second.
The most exciting part is that gamers now would be able to compete for the highest levels Snapdragon 865 Chipset – thanks to its coolest feature named Snapdragon Elite Gaming. It's not only designed for desktop-quality but for ultra-realistic graphics as well.
The new Qualcomm Kryo 585 CPU provides a total of 25% increase in output and the latest Qualcomm Adreno 650 GPU offers a performance boost of up to 25% overall compared to Qualcomm Snapdragon 855. Besides, Snapdragon 865 gives you the ability to cross-take, connect, capture and game like never before.
Senior Vice President and General Manager of Qualcomm Technologies Alex Katouzian said:
"The Snapdragon 865 supports 5 G compatibility and is the most powerful in the world to raise the bar for a mobile device. It is the culmination of the mobile leadership and development of Qualcomm over 30 years of history."
Snapdragon 865 Specifications
Though official Snapdragon 865 Launch isn't yet confirmed by Qualcomm Technologies but here is a complete list of specifications Snapdragon 865 is equipped with.
GPU: Adreno 650
Processor: 7nm FinFET
CPU Configuration: 1x 2.84GHz, 3x 2.4GHz, 4x 1.8GHz (Cortex A77)
DSP: Hexagon 698
Camera Support: 200MP Single/64MP Single with Zero Shutter Lag, 24MP dual Camera, Hybrid AF, HDR Video, Multi-Frame Noise Reduction
Video Capture: 8K @30fps, 4K UHD @120fps, 720 @960fps
Video Playback: 8K, 360 Degree, 4K Up to 120fps, 10bit, H.265, and VP9 Video Decoder
Charging: Quick Charge 4+, Quick Charge AI
Modem: X55 5G & RF System, 7500 Mbps Down, 3000 Mbps Up
Snapdragon 865 Phones List
As we have already mentioned, Snapdragon will be used in Phones Coming in 2020 but based on last year's list, we have figured out a list of Qualcomm Snapdragon 865 Phones ahead of its official launch. Again, it's just an educated guess, and we aren't certainty sure about it.
Samsung Galaxy S11 Series
LG G9 and LG V60
OnePlus 8 and OnePlus 8T
Sony Xperia 2
Moto Z5
Samsung Galaxy Note 11
Samsung Galaxy Note 11 Plus
Oppo Foldable Smartphone
Samsung Galaxy Fold 2
Asus Zenfone 7
ZTE Axon 11 Pro
Google Pixel 5 and 5 XL
Asus ROG Phone 3
Xiaomi Black Shark 3
Every listed smartphone is just an educated guess as we haven't heard anything from any smartphone brand, but it's most likely that the First Smartphone with Snapdragon 865 will be named Samsung Galaxy S11 and S11 Plus.
Benefits/Features of Qualcomm Snapdragon 865
This newly announced Chipset is hyping new architecture among its specifications, and all will indeed play a significant role in deciding what your next flagship smartphone is capable of doing.
Advanced 5G Mobile Platform
The Snapdragon 865 is the most powerful 5G mobile platform of all time. The world's first commercial 5G antenna modem solution, the Snapdragon X55 5 G Modem-RF system, provides consistent, light-fast speeds with top speeds of up to 7.5 Gbps.
The integrated Modem-RF-System solution offers the most advanced technologies for superior coverage and data rates, including Qualcomm 5G PowerSave, Smart Transmit Technology, Qualcomm wideband envelope monitoring technology, and Qualcomm Signal Boost, as well as improving regular battery life.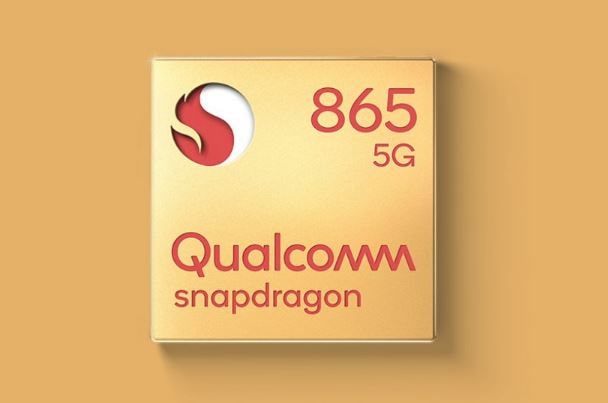 The 5G global solution supports both the TDD and FDD frequencies in all main regions and bands, including mmWave and sub-6.
It is supported by both the NSA and SA modes, together with DSS (Dynamic Spectrum Sharing), international 5G roaming and multi-SIM coverage. The Snapdragon 865 also redefines Wi-Fi 6 and Bluetooth audio experiences via a wireless networking subsystem Qualcomm FastConnect 6800.
Extensive Wi-Fi 6 feature innovation enables users to benefit from incredible speed (about 1.8 Gbps), and latency, particularly in crowded environments with a wide range of network devices.
Gigapixel Speed ISP
The ISP of the Snapdragon 865 will work up to 2 Gigapixel per second, which is a breathtaking speed and provide brand-new camera capabilities and features, of course.
One would be able to capture 8k video or take huge 200-megapixel images in 4 K HDR with more than 1 billion colour shades with ease. The gigapixel speed would also be used to slow down the situation and record unrestricted slow-motion video capture @ 690fps.
Dolby Vision, on the other hand, will produce amazing HDR images for large screen capture, for the first time on the mobile platform. The gigapixel speed ISP would easily and smartly identify different environments, people and objects together with the fifth generation Qualcomm AI Engine, so you would handle them individually for a really personalised image.
High-Quality Gaming
The fresh and first-to-mobile premium features of Snapdragon 865 are unlocked to offer ultra-smooth and high-quality gaming experience in the next generation Snapdragon Elite Gaming.
Snapdragon 865 is Android's first mobile platform which supports Desktop Forward Rendering to allow game developers to bring a new level of realism to mobile play through desktop lighting and post-processing effects.
Adreno's Updateable GPU drivers can be directly downloaded from the application store by OEM, which allows players to control their graphics driver updates and GPU settings to achieve premium performance in their top games.
The 144Hz screen refresh rate is too available for the first time on mobile and Game Color Plus in the highest echelon of display and graphical fidelity to improve game image quality with enhanced clarity, enhanced colour saturation, and local tone mapping.
The gameplay is now being optimised to the micro-second level by Snapdragon Game Performance Engine, offering adaptive and predictive real-time process tuning for long term results.
The most recent Adreno 650 GPU offers new embedded hardware features, including Adreno HDR Fast Blend, which can be used for challenging rendering systems in intense blending scenes with up to two times the potential to be lifted for specific tasks.