Right after launching Oppo A9X, Oppo has a new smartphone to be released and interestingly, its listing has been spotted on TENAA – revealing its actual design and a bunch of its key specifications as well as price.
According to the listing, the smartphone is loaded with Qualcomm Snapdragon 710 Chipset and is equipped with an impressive and bright 6.5-inches display with a maximum resolution of 1080 x 2340 pixels.
TENAA further revealed that it has 8GB of RAM – but based on rumours, Oppo might launch a lower-end model which will be loaded with 6GB of RAM. TENAA's listing has also revealed that it will pack a 16MP main camera on the back of the phone which will be assisted by a 2MP secondary camera. Out front, on the other hand, there is a 16MP camera which seems to be housed on a pop-up module like Oppo Reno.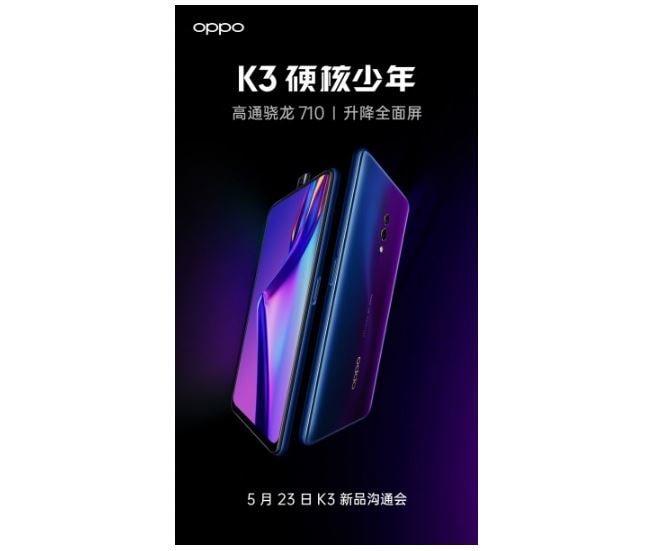 Besides, the handset has a standard 3.5mm headphone jack and a USB Type-C port which will enable 20W fast charging which is expected to support the in-house VOOC 3.0 flash charging technology.
It's most likely that Oppo K3 is going to be a successor of Oppo's already available K1 and hence it might house an on-screen fingerprint scanner.
Taking a look at its price which is revealed by the listing, Oppo K3 will set you back approx. 2199 CNY but it's for 8GB of RAM with 128GB of onboard memory. It's likely that one will be able to pick it up in a choice of three sensational colours – Nebula Purple, Dark Black, and Morning White.
The official release date of Oppo K3, however, isn't known yet – but looking at its complete revelation on TENAA, we are expecting it to start landing soon.