Very much like last year with OnePlus, T-Mobile has announced that it would again be the exclusive carrier in the US to collaborate with OnePlus to launch OnePlus 7T Pro 5G McLaren Edition – as did in 2018 with OnePlus 6T McLaren Edition.
This gorgeously designed smartphone is using T-Mobile's 5G network – running on 600mHz Spectrum which is, for now, only offered for Samsung Galaxy Note 10+ 5G and Samsung Galaxy S10 5G in the United States.
OnePlus has designed that phone as a "special-specs enriched flagship phone" like OnePlus 7 Pro. It's featuring an all-screen design – thanks to pop-up camera setup and there is a curved Gorilla Glass on both sides, back and front with a metal frame. The phone feels super-responsive as it has a whopping 12GB RAM, 6.67" (1440 x 3120 pixels) Quad HD+ Fluid AMOLED display with a 90Hz refresh rate.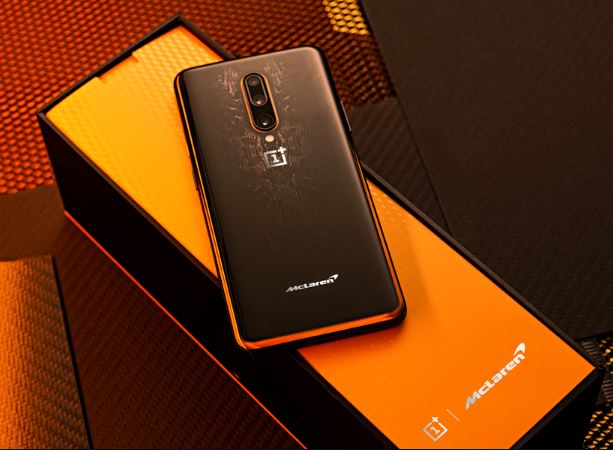 OnePlus 7T Pro 5G McLaren Edition Specs
For comparison to the frosty glass on the OnePlus 7T Pro, it has a high-gloss glass back. It features orange Papaya colours, as seen with the current Formula 1 car from McLaren Racing. The advertising doesn't end there with Alcantara's phone case – it has a la Surface Pro keypad, a grippy plastic security frame, and a McLaren logo as well.
A tri-camera setup is available outback in the center of the phone, positioned vertically – consisting of a wide, ultra-wide and telephoto sensors. The primary camera is 48MP in size with IMX586 from Sony – very much like ROG Phone 2.
The primary 48MP camera is joined by a 16MP ultra-wide camera and 8MP camera with 3x Optical Zoom. Digging down inside the phone, it's powered by Qualcomm Snapdragon 855 Plus Chipset – paired with 12GB RAM (again like ROG Phone 2) and 256GB internal storage (expandable no further).
A 4085mAh battery inside the beast is supported by Warp Charge 30T which means it can be recharged approx. 60% in only 30 minutes. This ample battery seems to give enough power to stay active all day long, even with extensive use such as multitasking and playing games.
Price and Availability
Everything mentioned here on this page is entirely based on online sources even OnePlus 7T Pro 5G McLaren Edition release date and pricing details. According to what sources have claimed, it's right now available to pre-order across the United States, and it'll hit shelves officially a few days later – on November 5th.
As far as OnePlus 7T Pro 5G McLaren Edition Price is concerned, it's capped out at $945-955 – depends on a model/variant you choose to get your hands on. Its standard version with 12GB RAM + 256GB storage has a price hike of $35 than OnePlus 7 Pro. Not only it's expensive than 7 Pro, but it's significantly higher as compared to OnePlus 7T too which set users back only $655-666.
According to T-Mobile, however, OnePlus 7T Pro 5G McLaren Edition is an affordable option for the US audience as compared to a super-powerful Galaxy S10 5G smartphone. Agreed?