When it comes to the most-anticipated smartphones of 2019, OnePlus 7 rises to the top of the list with ease. And interestingly, there are a plethora of rumours about this next Chinese smartphone already. This is now the time to take the stock of the next flagship smartphone. It's going to be the company's first and foremost smartphone to be loaded with 5G Technology as well as the first to say goodbye to the notch – that introduced with OnePlus 6 last year.
The major highlights of OnePlus 7 are related to 6.5-inches Optic AMOLED Display, Qualcomm Snapdragon 855 Chipset, Triple Rear Cameras, Android Pie 9.0 OS, a hefty 12GB of RAM and 4000mAh battery to keep things moving all day long. Ahead of its official launch in the UK, we have done our best and gathered everything we have heard so far. So, let's keep going to find out more.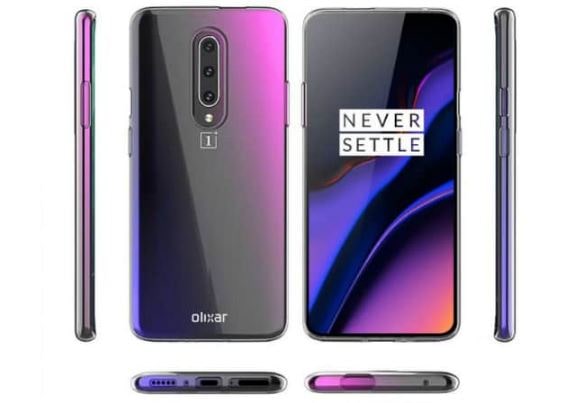 OnePlus 7 Specs
OnePlus 7 specifications include Bluetooth 5.0, NFC, GPS, on-screen Fingerprint Scanner, 4000mAh battery, massive and bright 6.5-inches display for HD movies and 3D games and hefty RAM for ultra-fast performance. Other details include:
Dimensions: 161.3 x 76.1 x 8.8 mm
Display: 6.5-inches Optic AMOLED 1080 x 2340 Pixels
Display Protection: Corning Gorilla Glass 6
Operating System: Android Pie 9.0
Chipset: Qualcomm Snapdragon 855
GPU: Adreno 640
RAM & ROM: 8GB/12GB with 128GB/256GB
Rear Cameras: 48MP + 20MP + 5MP
Front Camera: 16MP (Motorized Pop-up)
Connectivity: Wi-Fi 802.11 a/b/g/n/ac, Bluetooth 5.0, GPS and NFC
Sensors: Fingerprint (on-screen), Accelerometer, Gyro, Proximity and Compass
Battery: 4000mAh
Colours: Midnight Black and Mirror Black
Release Date and Price
The official OnePlus 7 release date in the UK and other countries will probably be sometimes in the middle of 2019 as a predecessor OnePlus 6 landed in stores on May 16, 2018. Therefore, it's most likely that OnePlus 7 will arrive on somewhere in May 2019.
That sounds realistic as OnePlus 3 and 5 officially arrived in June of their respective years – so it's also possible that it'll make an entrance in June 2019.
As for OnePlus 7 Price in the UK, there are no words – but the most recent OnePlus 6T which launched at £499 and since then prices have been creeping up, so we should expect that it'll set users back at least that much. Obviously, expecting a little hike in price wouldn't be wrong.
Rumours and News Roundup
So far, we have gone through plentiful OnePlus 7 images – indicating that it's an almost bezel-less free smartphone with a pop-up selfie camera whereas outback, there is a triple-lens camera which is already on par with so many smartphones.
In most of the renders from a case-maker, a pop-up selfie camera isn't clearly visible – but there is a small cut-out out front to sport a front-facing camera instead of a pop-up mechanism. The same design has already been suggested in leaked images as well – some of them showing all-screen design without a pop-up camera and one of which shows a raised section slightly above the screen. Perhaps, it's the part of a mechanism for a slide-out camera.
Some online sources have also shared other images of OnePlus 7 which show that there will be three different models of OnePlus 7, the first one will be OnePlus 7 standard and two others will be named OnePlus 7 Pro and OnePlus 7 Pro 5G.
All leaked images of OnePlus 7 can easily be found on the internet – showing a curved screen and there is no top bezel. The images show that it's sporting a 6.7-inches screen, 8GB of RAM, 256GB of onboard memory, Qualcomm Snapdragon 855 Chipset and triple rear cameras – consists of 48MP + 16MP + 8MP.
Well, putting the front camera aside for a short while, one of the biggest rumours about OnePlus 7 so far is that, the company has all set to launch one of the first 5G phones before 2019 ends. This will not be OnePlus 7 but it's likely to be OnePlus 7T.
Similarly, OnePlus made an announcement that it'll release the first 5G-enabled smartphone in European countries as OnePlus is partnering with the UK network EE in order to bring that handset in the UK market sometime in 2019.
A prototype of OnePlus 7 has been shown off indicating that it's loaded with Qualcomm Snapdragon 855 Chipset is likely to hold a screen with an aspect ratio of 21:9. However, some sources have claimed that it wouldn't have a 21:9 screen and most important of all, it'll lack a wireless charging feature.
But it's possible that it'll not be the company's 5G-connected smartphone the company has been talking about. According to the reports from sources, OnePlus' 5G device will be the first in a completely new line and based on another rumour, it'll cost users more than OnePlus 6T.
Beyond every rumour, suggestion or leak, OnePlus will be equipped with a Glass Back – since OnePlus only switched to glass with last year's OnePlus 6 and 6T. Will come with loads of RAM – up to 12GB. The most recent OnePlus 6T McLaren Edition comes with 10GB of RAM – therefore, OnePlus 7 may well match that.
The Last Words
Though we are getting closer to the release date of OnePlus 7 more and more day by day, but it's still a rumoured smartphone. Therefore, expecting too much can lead us to be disappointed. Based on the information, rumours and leaks so far, it seems to be an excellent flagship device with up-to-date hardware and software, super-stunning cameras for bright and detailed images and massive screen that takes enjoyment to the next level when it comes to watching movies or playing games. We are keeping an eye on it and will have that story updated as soon as more details drop.