The standard OnePlus 7 just appeared in official-looking press render – but we have already seen OnePlus 7 Pro leaks a bunch of times in the past few days. Almost a week back, OnePlus 7 Pro appeared in two different colours which are named Mirror Grey and Nebula Blue. Now, another colour option has been leaked.
The third and latest colour option is named Almond and it seems like what brands would name "Gold" a few years back. But Gold is almost out of fashion – therefore, Almond is more in tune with a subdued tone.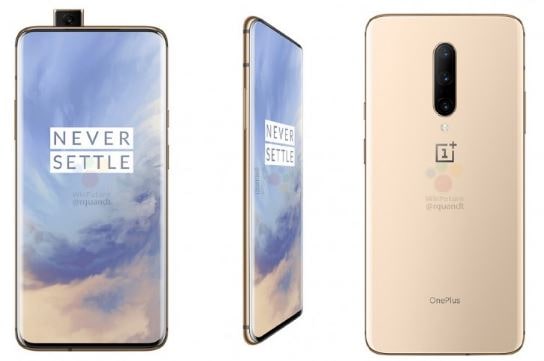 Putting this new colour aside for a short while, this is one and the same OnePlus 7 Pro we have been seeing for many weeks now in leaks left and right. As the design has remained the same for a long period of time now, we assume it's what handset actually looks like.
Digging down inside, OnePlus 7 Pro is likely to come with Qualcomm Snapdragon 855 Chipset and OnePlus itself has confirmed that it has UFS 3.0 storage and an HDR10+ certified display. This screen seems to be the best ever put in a smartphone according to DisplayMate.
OnePlus thinks that IP rating for water and dust resistance is quite expensive – that is the reason both OnePlus 7 and 7 Pro won't have this feature. Rumours have suggested that 7 Pro will have a whopping 121GB of RAM, 6.7-inches AMOLED curved display and three sensational cameras outback. Both handsets will start landing on shelves officially on May 14.
Read More: OnePlus 7 and 7 Pro Appeared with Full Specifications Sheet