Motorola adds new phones to their "One" line-up and the Motorola One is our first and foremost look. The phone appears very similar at first glance to the Motorola One Vision, which started up back in May. Both have a 21:9 display with a punch-hole on the front – surrounded by minimal bezels.
On the back, however, things are beginning to change. The One Action rendering indicates that it will have triple-camera configuration rather than the dual camera configuration.
If you zoom very closely, you can even see one of the cameras with the name "Active Cam" offering a super wide angle camera with a 117 degree viewing effect. Not only do we look at the next phone in Motorola but we understand what it will be loaded with.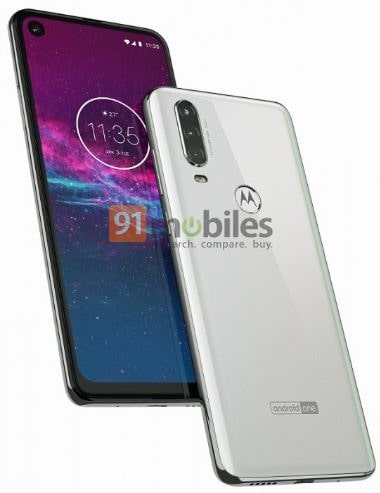 The choice of 3GB or 4GB of RAM, the options of 32GB, 64GB or 128GB and 3500mAh battery, starting with the Samsung Exynos 9609 processor. Due to the branding of Android One, we can also suppose that it will also be launched with the newest Android variant.
The front-facing punch-hole camera uses a 12.6MP sensor when it comes to the cameras, whereas the primary camera on the rear also uses a 12.6MP sensor. The details for the other two cameras have unfortunately not yet been disclosed.
The One Action is also available in three stylish colours, Blue, Gold and White. Although we know almost everything about the Motorola One Action, but we are short on words on when will it be launched and how much will it set users. However, sources claim that if it is launched, it will be more economic than the One Vision.