Perhaps Motorola's G series devices aren't as great and features-enriched as other top-range smartphones around. But, without a doubt, G series doesn't set users back as much as Google Pixel devices or Apple devices. Every single member of Motorola's Moto G7 family looks gorgeous to fulfil users' needs without making their wallets cry.
Motorola in 2019 treated its audience with not two or three but four different devices of Moto G7 named Moto G7, Moto G7 Play, Moto G7 Plus, and Moto G7 Power UK. Very much like Moto G7 Power, standard Moto G7 and G7 Play are budget-friendly – loaded with Qualcomm Snapdragon 632 with different number of RAMs and onboard memories.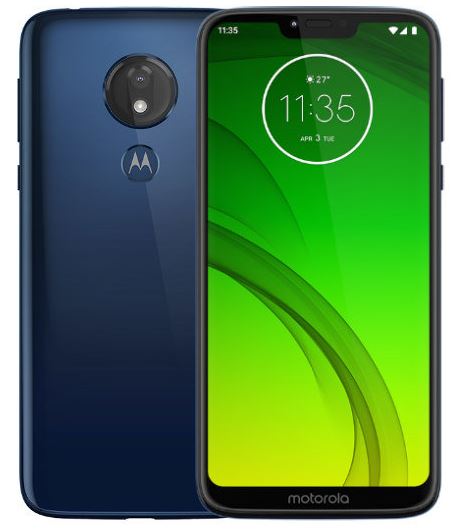 Talking about Moto G7 Power specifically, it's powered by 3GB and 4GB of RAM with 32GB and 64GB of internal storage respectively. A Qualcomm Snapdragon 632 Chipset powers the phone and most important of all, it flaunts a hefty 5000mAh battery – a major selling point of it.
Besides, Moto G7 Power is an amazingly capable performer for a mid-range and low-end device – its chipset alongside processing power as well as a 12MP camera on paper are impressive when it comes to budget smartphones 2019. Everything which makes it stand out from a competition, i.e. its battery, display performance, camera performance, and software is mentioned here in our Moto G7 Power review below.
Price and Availability:
Moto G7 Power Release Month: February 2019
Officially Available Worldwide including the UK
Moto G7 Power Price UK is £179
Moto G7 Power release date in the UK
, however, was somewhere back in February. It's on sale, and one can pick it up in a choice of three colours options, i.e. Iced Violet, Ceramic Black, and Marine Blue.
In terms of Moto G7 Power Price in the UK, it's available at only £179. The phone comes in two different storage tiers to choose from – 3GB with 32GB of internal storage and 4GB with 64GB of internal storage.
Its sibling Moto G7 Play is cheaper that only set users back £149, but standard G7 and G7 Plus have a little hike in price.
However, £179 makes Moto G7 Power the best competitor of Huawei P Smart, which offers impressive performance at £195.
The Nokia 5.1 and Honor 10 Lite, on the other hand, compete Moto G7 Power as well with a price tag £200 but it's £60 cheaper as compared to standard Moto G7 (as mentioned above).
Design:
Very Much Like G7 at First Glance
Black Metal Body – Protected by Gorilla Glass
Circular Camera Module Outback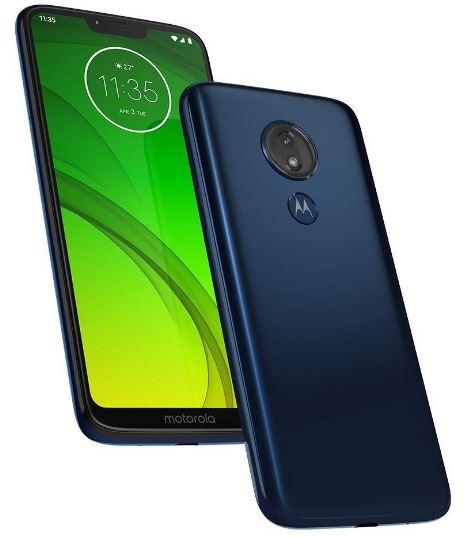 Motorola didn't make a lot of changes in terms of design when comparing it with its standard G7 sibling. So, chances are you would get your hands on a wrong model mistakenly on many occasions. Well, it's not really bad. The entire Moto G7 range is offering more than just a passing impression of devices that set users back twice the price or more and interestingly, Moto G7 Power is no different.
The tallest 6.2-inches display with an aspect ratio of 19:9 and a little amount of chin on the bottom and a notch, of course, that flaunts a front-facing camera.
In spite of this rookie mistake design, the annoying trend of removing a standard 3.5mm headphone jack has not been followed (thankfully) – there still is, willing to accept your reliable outdated earbuds.
Flip it over, and the first indication appears that it's not a flagship smartphone. Remember that the rear is made of a metal body which is covered by a Gorilla Glass. It's totally fine if you have a little magnet for your fingerprint and it feels a touch slippery while holding in hand. Hence, you will definitely want to buy a case or use a clear plastic one that comes alongside the handset. The Motorola logo is placed underneath a large and distinctive circular camera setup close to the rear-mounted fingerprint scanner.
In the UK and other European countries, Moto G7 Power comes with a 64GB of onboard memory which sounds more than enough for storing loads and loads of data. If you are, however, a heavy user and need extra storage, there is a MicroSD slot that can take the storage to the next level.
The power button and volume rockers are positioned on the right side of the handset, whereas the left side is covered by a SIM and microSD card tray. On the bottom, there is a USB Type-C for all your data and charging needs.
Display:
2-inches IPS LCD Display (720 x 1520)
Colours are Average but Good Viewing Angles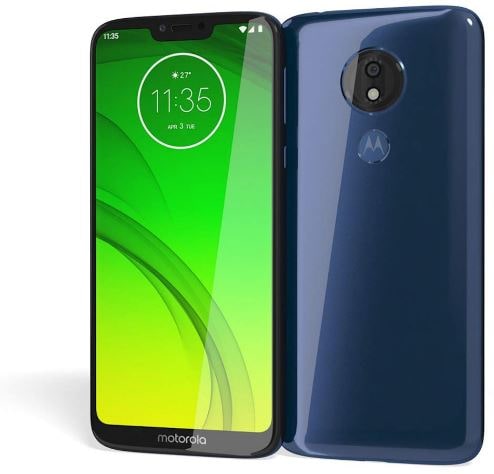 The Moto G7 Power holds up a display with a size of 6.2-inches but thanks to its 720 x 1520 pixels resolution, it's not as impressive G7 and G7 Plus that house a resolution of 1080 x 2270. The distinction is only apparent if you compare devices side by side, and there is no problem with everyday use. The Moto G7 Power offers a 77.6% screen-to-body ratio.
On the top of the display, there is a wide notch, and very much like other Android smartphone notifications, you can only get two notifications before the rest are hidden – it's obviously a bit awkward to hear that you are bombarded by alerts frequently.
The display performance is less than the best – but an average. It's an LCD display with IPS technology – thus, the colours are not really vibrant as you would expect from a phone with AMOLED display.
Well, on Moto G7 Power, you can comfortably stream videos to another person, and it wouldn't look weird.
Camera:
12MP Rear Camera with LED Flash for Detailed and Colourful Images
8MP Front Camera for Selfies and Video Calls
1080p Video Recording at 30fps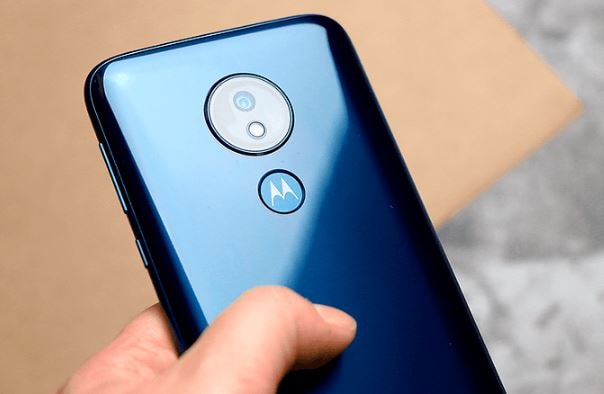 Image credit: androidpit
On paper, Moto G7 Power is equipped with a single 12MP camera which is partnered with an aperture of f/2.0 and obviously a plethora of camera features and modes. Based on a report shared by online sources, captured images are exceptionally bright. The camera quality as compared to G7, however, is slightly lower as with an aperture of f/1.8 shoot quite better images.
In good light, the difference between G7 and G7 Power is quite low, and when you look at the number of details taken in pictures, it really feels that G7 Power is hitting over its weight.
White balance is usually treated very well, with the most precise colours in a variety of circumstances of illumination, but one problem is that it uses extremely aggressive tap-to-exposure, so you may need a slider to dial-up or down the exposure after the focus locks.
The low-light results, on the other hand, are not too good, but it doesn't struggle a lot to capture details. Instead of increasing the brightness, Motorola enables things to get a little bit dark and grainy, and that's what makes an actually natural and pleasant shot.
The G7 Power video shot is stabilised electronically to take charge of OIS. it's indeed excellent, but the good news is that you can switch it off–it is ideal for tripod shooting if you want to see the whole perspective in the picture.
Oddly enough, Moto G7 Power doesn't support 4K videos -very much like other G7 devices, but apart from this, it shoots the same images.
Performance:
Qualcomm Snapdragon 632 Chipset
3GB RAM with 32GB Storage and 4GB RAM with 64GB Storage (Expandable)
Up to Snuff Performance without any Glitch
Image credit: droidshout
The Moto G7 Power comes with the Qualcomm Snapdragon 632 CPU, 3GB/4GB RAM and an Adreno 506 GPU, as with most other smartphones in Moto G7 range. Although there is a more powerful CPU inside Moto G7 Plus – a Snapdragon 636 – the G7 Power got Geekbench 4's multi-core scores 4585 which doesn't seem far away from the G7 Plus 4590.
As far as the overall mobile phone activities are concerned, it is easy to operate. You can burn several tabs on Chrome simultaneously, loading pages quickly over 4G or Wi-Fi. Moreover, playing graphics-enriched games like PUBG is smooth and seamless and working on multiple apps is glitch-free as well.
The call quality, however, is relatively average. If you talk to someone on Bluetooth headphones or the conventional receiver, the voice becomes muddy most often.
Battery:
Two-days Battery Life with Heavy Usage
Better than Galaxy S10 Plus and Xperia 10
Massive 5000mAh battery
As the name indicates, with a massive 5000mAh battery, the Moto G7 Power is a smartphone with a lot of strength. The Moto G7 Power lasts an amazing 13 hours 59 minutes when it comes to streaming a video from YouTube with maximum brightness on Wi-Fi.
This is undoubtedly the marvelous result we have ever seen in a mid-range smartphone. Although it's to be noted that 720p resolution actually helps here as most of the other devices run at Full HD 1080p resolution. A well-known source has tested the entire battery life, and the results are as follow:
Moto G7 Power Battery Life: 13 Hours 59 Minutes
Moto G7: 8 Hours 27 Minutes
Sony Xperia 10: 4 Hours 54 Minutes
The above points indicate that G7 Power quickly blows away a battery competition. Besides, when plugging in a UBS-C cable for charging, it takes only an hour to get charged from 0% to 60% – thanks to Motorola's TurboPower which charges the phone at 18W.
Review overview
The Pros
Affordable Device
Long-lasting Battery
Loads of Internal Storage
Tallest Display for more Pleasure
The Cons
720 Pixels Display Resolution
Lacks Wireless Charging and NFC
Back Panel is Easy to Scratch
Summary
8.4Summarising everything in a short paragraph, Moto G7 Power is equipped with finest features such as its battery and tallest display. And these are the major selling point of the handset. However, it's awkwardly big with its weight and thickness, making it quite hard to operate with one hand and to carry around in a pocket. Well, it's not a problem for all as its 5000mAh battery is ready to cover its all downsides. The rest of the things are totally fine, but again it's a little bulky, and one cannot hold it up for long periods of time.