Huawei Nova 5T has recently been found on Google's Android Enterprise website. And now in Malaysia, the phone will be announced officially on 25 August.
Huawei confirmed that on 25 August, the smartphone will be announced officially at the Malaysian "We Are Nova Fashion Showcase" event. The Nova series, however, includes smartphones such as the Huawei Nova 5, Nova 5i, Nova 5 Pro and Nova 5i Pro. The Nova 5T is the fifth in the sequence.
Huawei Nova 5T is backed by a punch-hole design – according to the report of Android Enterprise. There are minimal bezels in the corner of the display. In addition, volume controls and on/off button are featured on the right-hand side of the device whereas a USB slot is placed on the bottom. It's, however, unknown whether it's a micro USB or USB Type-C.
Specifications-wise, Huawei Nova 5T is listed with a 5.5-inches display alongside a Full HD+ resolution. The total available amount of RAM is up to 8GB whereas, in terms of storage, it comes in two different versions to choose from – 128GB or 256GB.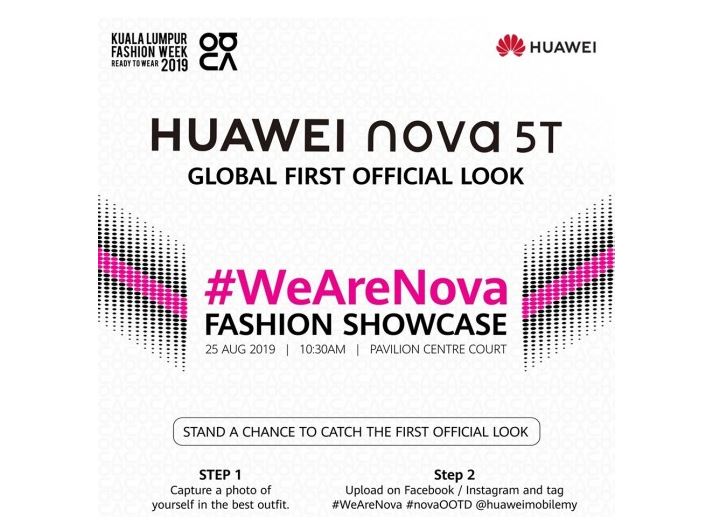 It's loaded with a fingerprint scanner and is running on Android 9 Pie. The rest of the features of Nova 5T include Zero-Touch support as well as NFC support.
The above-mentioned specifications cannot currently be verified as popular Roland Quandt leakster reveals that the information on the list is incorrect. According to him, the Huawei Nova 5T is simply the newly announced version of the Honor 20 and it will come with the same size of 6.26-inches instead of 5.5-inches display.