The next biggest flagship smartphone Chinese giant Huawei will indeed be Huawei Mate 30 Pro alongside Mate 30. The Mate 30 Pro specifically will continue on a legacy of being super-powerful smartphone from the manufacturer. Like the world's leading brand Samsung, Huawei has made a habit of releasing its powerful flagship in its P series early in the year and follow then that with Mate Series later on. With an ongoing issue in the United States, Huawei is facing difficulties which meritoriously bars in from doing business with companies such as Android and Google.
Here on this page, we have compiled all Huawei Mate 30 Pro rumours and leaks and everything else we know so far. Be sure to check this page frequently as we are updating this page on a regular basis with latest news and information.
Pricing and Release Date:
By keeping the release date of Huawei Mate 20 and 20 Pro in mind, Huawei Mate 30 Pro release date UK is expected to be somewhere in October 2019. Well, a Russian news site in its earlier report said that it's going to be launched on September 19. The official release date isn't yet announced by Huawei, but you should mark your calendars for September 19 and get ready to get your hands on Mate 30 Pro alongside its younger brother Mate 30.
As for Huawei Mate 30 Pro Price UK, it's not known too – very much like its official release date. A predecessor Mate 20 Pro arrived with a price tag £899 – therefore, expecting Mate 30 Pro to set users back at least that much wouldn't be wrong.
Recent Leaks Revealed Mate 30 Pro Specifications:
Huawei is going to hold an event in Munich Germany in which Mate 30 series are going to be revealed. Back in 2018, Huawei launched Mate 20, Mate 20X and 20 Pro but it's yet to be confirmed how many models will appear. However, some leaks have unveiled almost all specifications of Huawei Mate 30 Pro ahead of its official launch.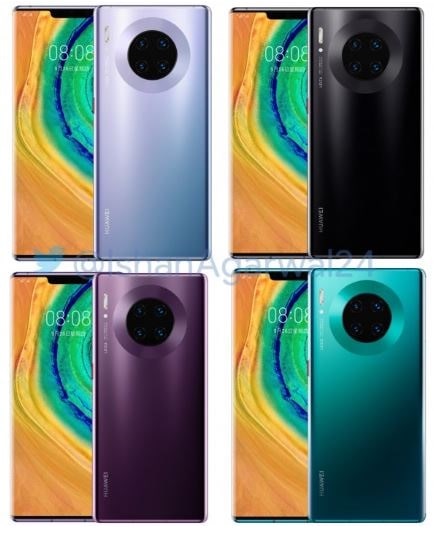 The front of Mate 30 Pro is rumoured to be covered with a 6.6-inches AMOLED display with a maximum resolution of 1176 x 2400 pixels. The phone seems to hold up a waterfall design – hence, you can expect curved edges. Leaks also revealed a 60Hz refresh rate of the display and an on-screen fingerprint scanner in terms of security.
The Mate 30 Pro has Huawei's Face ID 2.0, which is quicker and safer to track heart as well as breath rate. HiSilicon Kirin 990 5G Chipset is partnered with 8GB to 12GB of RAM (depends on a variant you choose) and 512GB of onboard memory. The 4500mAh battery is rumoured to support 40W SuperCharge and 27W SuperWireless Charge.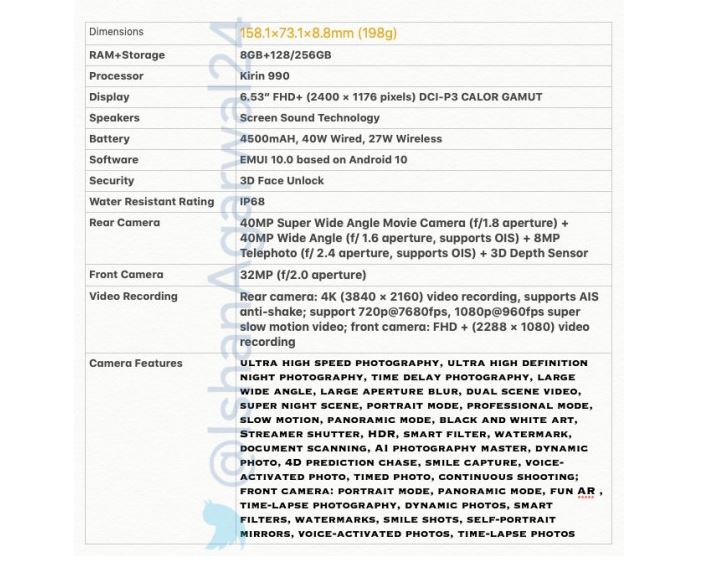 According to earlier rumours, Mate 30 Pro will be running on Android 10 with EMUI 10 UI on top, but it wouldn't carry any Google app – thanks to its recent trade ban with the United States.
Exclusive Full Renders of the #HUAWEI #Mate30Pro! Which colour do you like the most? And yes, Slow-Mo at [email protected] and [email protected] along with A LOT of Camera features, all detailed in the specification sheet attached below. Could this become the best camera/video phone? pic.twitter.com/ClBy3XWZll

— Ishan Agarwal (@ishanagarwal24) September 19, 2019
In terms of optics, four camera sensors are expected to be available in a rear round camera module. The setup is consisting of a Sony IMX600 sensor, coupled with a 40MP camera, an 8MP telephoto camera and a ToF sensor. And on the front, Huawei Mate 30 Pro is rumoured to house three cameras – consist of a 32MP primary camera with an ultra-wide lens and a 3D ToF sensor. All these cameras will be positioned in a wide notch.
The bottom of the phone will be covered with a mono speaker, whereas a power button alongside a volume slider touch bar will be positioned on the left-hand side. Rest of the details include a standard 3.5mm headphone jack, Nano-SIM/Nano SD Dual-Slot and IP68 certification for water and dustproof resistant.
The topmost Huawei Mate 30 Pro rumour we have heard is that there is phone case with space on its rear for the additional camera sensor. The appeared images have shown that five cameras are placed on the back which is a significant jump over Mate 20 Pro which sports three cameras.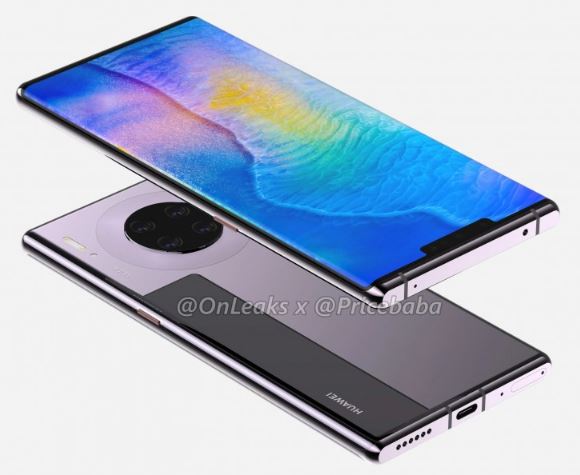 Furthermore, the 5G connectivity is rumoured to be available in Huawei's upcoming Mate 30 Pro as well as its standard Mate 30 version. Aside from that, we are pretty sure Huawei will add the company's latest Chipset – most probably HiSilicon Kirin 990 Chipset. As of now, smartphones are equipped with 980 Chipset which first and foremost, arrived in Mate 20 last year. So, it sounds real to see an updated version of HiSilicon Kirin 980 Chipset.
Did you get it right? The countdown to #HuaweiMate30 starts now!
We're going full circle in Munich on 19.09.2019.
Join us live: https://t.co/9ugi5gG9ci#RethinkPossibilities pic.twitter.com/etRYjrBVEC

— Huawei Mobile (@HuaweiMobile) September 1, 2019
Some online reports have claimed that Mate 30 Pro will have 25W wireless charging that will restore juice from 0% to 100% in less than one and a half hours.
According to some Mate 30 Pro leaks, it'll have four rear cameras instead of five, and it's likely to house a similar design like Mate 20 Pro including a waterdrop-like notch and thin bezels. So far, we have gone through plentiful Huawei Mate 30 Pro leaks and rumours – showing a design with a wide notch alongside a curvier display.
The front side of the phone has rumoured as well, suggesting dual front-facing cameras (a wide notch seems to be true) – enclosed by the display like Samsung Galaxy S10 Plus.
Some online sources have revealed different images with big camera blocks of Mate 30 Pro phones that will be released in the second half of 2019. The Google Pixel 4 and iPhone 11 both are tipped to be loaded with the same design as well.
However, we have already heard through a leaked render (@Slashleaks) – indicating a circle camera block with lenses – positioned in an X shape. It's, without a doubt, a futuristic design which is available nowhere else, so far. But it's surprisingly biggest and could be unbearable in physical form.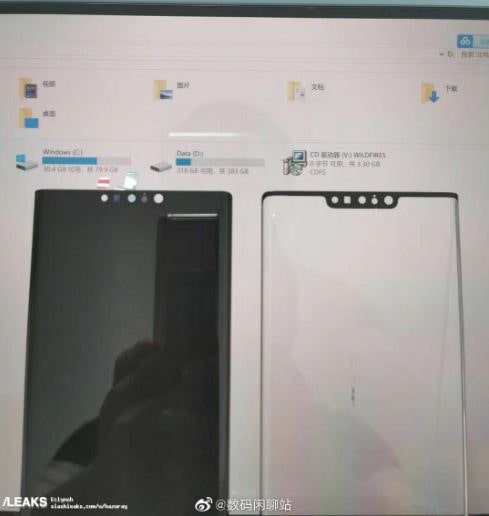 Putting rumours, leaks and suggestions aside for a while, we are expecting Mate 30 Pro to be loaded with an improved camera, many rear lenses, notch-free display, super-fast on-screen fingerprint scanner, the smooth and glitch-free user interface as well as a standard 3.5mm headphone jack. What are you expecting in Mate 30 Pro? Do share your thoughts with us using our comments section.