A new WinFuture report is leaking an image containing two new alleged Huawei Watch GT variants. Huawei initially announced that the Watch GT would be available together with Huawei Mate 20 Pro with its own proprietary Light OS operating system. The latest and greatest models are named Huawei Watch GT Active and Huawei Watch GT Elegant respectively – according to a report.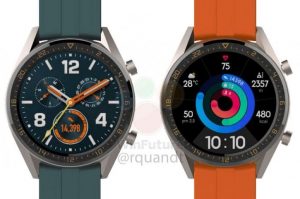 The watch body has a slightly different look – the first and foremost thing you can see is the physical style of the buttons. The second difference you will notice is that somewhere between gunmetal and gray is finished. With the watch GT aside from the watchbands, there are no other apparently drastic changes. The new version of the Watch GT Active could be in White and Black according to the report and have the same 1.39-inch OLED display.
The Huawei Watch GT is currently coming out at €199 for a Sport Version whereas Classic Version set users back around €299. An Active Version is expected to cost €249 whereas Elegant Version is most likely to go for €229.
After taking a look at the prices, we are wondering why Huawei needs two more variants of its Watch GT. Chances are we will get more details when P30 and P30 Pro will land officially on March 26 in Paris.