A bunch of Honor smartphones is going to be released in a couple of hours – but if you go with Flipkart App and press on "Mobiles", you will be getting a teaser for Honor 20 already.
There is an excerpt from the Honor 20 page in the application's landing page and a live stream window is integrated as well so you can tune in right from the Flipkart app. The following is a teaser video with the slogan "You Deserve Better."
The "Notify Me" button at the bottom of the page gives interested buyers more information about the upcoming Honor 20 as soon as it has been released. We can say, without a doubt, that shortly after the announcement of the Honor 20 Series, it will be available to the Indian online retailer.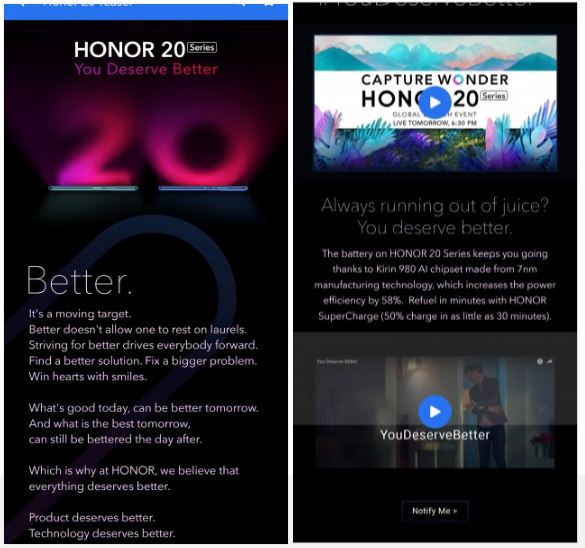 Moreover, the App's page has mentioned that this Honor 20 will be powered by HiSilicon Kirin 980 CPU and Honor Super Charge which will help to restore the juice from 0% to 100% in an hour.
Very much like an Indian audience, we are expecting both Honor 20 and Honor 20 Pro to be announced for the UK people. At least on Honor 20 Pro model, we are expecting it to be loaded with three rear camera lenses – consist of a 40MP (Main Camera), a 16MP (Ultra-wide) and an 8MP (Telephoto) camera.
Aside from everything, a leak has suggested that a small sensor inaccessible from the three-cam cluster could be a dedicated 2MP macro lens. Well, everything will be cleared in a couple of hours. So, let's wait for it.