Google always pleased its fans with numerous very attractive and competitive smartphones like Google Pixel 3, 3 XL in 2018 and Pixel 4 and 4 XL in 2019. Google is expecting the same hype for its upcoming smartphones with quite a few changes in terms of design, camera and overall performance.
A handful renders of next Google Pixel 4a in the UK has been shared online – revealing its overall design, dimensions and other details. The most important highlight is that it's loaded with a punch-hole display which makes it the first and foremost smartphone for Pixel lineup. A small punch-hole camera enables Pixel 4a to be more edge-to-edge as compared to its predecessor Pixel 3a.
Outback, unfortunately, it still houses a single camera which is partnered with LED flash to assist you in low-light conditions. According to Google, however, there is an extra sensor on its rear for enhanced and better images. What else reports have claimed? Let's find out below!
Release Date and Pricing
Expecting Google Pixel 4a in early 2020 might disappoint you as Google Pixel 4 and Pixel 4 XL both are still fresh smartphones and putting an educated guess in terms of Google Pixel 4a Release Date would be too prompt.
The predecessor Pixel 3a arrived on stores somewhere in May 2019 right after Google I/O 2019. Therefore, it's expecting Google to repeat the pattern again wouldn't be wrong. We are short on words on Google I/O 2020 but it'll hit stores at the same time in 2020.
Taking a look at Google Pixel 4a Price, it doesn't likely to go as higher as Google Pixel 3a that arrived on shelves with a price tag £399. According to Google, Pixel 4a is a budget-friendly smartphone, so expecting it to be priced lower than Pixel 3a would be safe. Again, it's just our educated guess in terms of release date and pricing as final and accurate details will be shared later.
Design
Based on Google Pixel 4a rumours and renders, it's going to be the company's first smartphone with a punch-hole camera – positioned in the top-left corner of the phone. The display is said to be flat with a maximum size of 5.8-inches. It sounds a little bump (0.1-inches) over its predecessor Pixel 3a that houses a 5.6-inches display.
The earpiece is quite small but can be seen on its top and bezels around the display are quick thick. However, these are very much small on the below and above the display. We are short on words on whether Google Pixel 4a support Project Soli-based Motion Sense tech or not. It is unlikely as bezels around are small as compared to Google Pixel 4.
Checking out its rear, it's loaded with a fingerprint scanner but which type of material used by Google on its body isn't yet revealed. The rear camera layout is quite similar to the like of Google Pixel 4 as well as iPhone 11 and 11 Pro but with a single camera and LED Flash.
If Google Pixel 4a leaks by @Onleaks turn out to be true, it'll have more sensors housed within this camera module for better and improved images.
And here comes my last late #Christmas gift in form of your very first and early look at the #Google #Pixel4a!
360° video + gorgeous 5K renders + dimensions, on behalf of my Friends over @91mobiles -> https://t.co/rsvRkjVOln pic.twitter.com/sqG6J5knSR

— Steve H.McFly (@OnLeaks) December 28, 2019
USB Type-C Port and Speaker Grilles are holding their position on its bottom whereas the right edge has Power button and Volume rocker. Overall, Google Pixel 4a is smaller and narrower over Pixel 3a with dimensions 144.2 x 69.5 x 8.2mm.
Display
As mentioned above, Google Pixel 4a is likely to have a flat display with slimmed-down bezels and punch-hole camera – something that is unseen from Google so far. How much resolution the display will be supported with isn't yet known and there are no words for its elder brother Google Pixel 4a XL.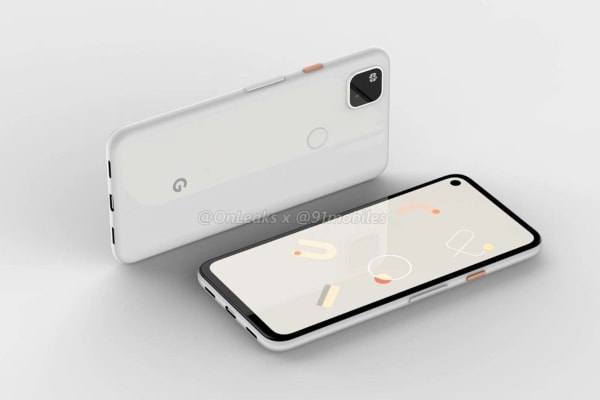 The Google Pixel 4a is expected to sport at least 1080p resolution. As there are no official details shared by Google itself in terms of display technology but we are expecting it to at least go for OLED.
Camera
Relying on renders as of now, Google Pixel 4a is loaded with a single camera outback alongside an LED flash. Expecting this single camera to be as capable as in Google Pixel 4 would be safe as it's one of the major points of these phones. Considering this, Google Pixel 4a might have a 12.2MP sensor with an aperture of f/1.7 and OIS (Optical Image Stabilisation).
It will be equipped with all possible features like AI Skills and Night Sight. On the front, on the other hand, Google Pixel 4a likely to sport an 8MP camera in a small cutout with an aperture of f/2.0 alongside bokeh skills.
Other Specifications
Things are pretty blurred in terms of hardware specifications, for now as it wouldn't arrive any time before Google I/O 2020. Based on rumoured specifications, Google Pixel 4a is expected to come in three different colour options – Black, White and Purple.
It should come with at least 4GB of RAM and 64GB of onboard memory with an option to extend it further via microSD card. Perhaps Google uses Qualcomm Snapdragon 730 or 765 Chipset for its Google Pixel 4a but we are expecting it to sport a 12.2MP camera outback and most important of all 5G connectivity which is going to be global before 2020 ends.
Our Expectations
Human satisfaction never ends whether it's a smartphone or anything else in the world. The Google Pixel 4a seems to be an innovative and dazzling beast with quite a few mind-boggling features to entice but there are a couple of things it should must have to get hype in the market.
A Telephoto Camera for Outstanding Images
120Hz Display for Smooth Viewing Experience
Eye-catching Design for Attraction
Improved Battery Life with At least Full-Day Juice
Let us finish this off by saying that we will know more about Google's upcoming Pixel 4a sometime in the half of 2020 as it's likely to hit shelves in May – very much like its predecessor Pixel 3a which arrived on stores in May 2019. Is there anything you don't like about Google Pixel 4a or something you want it to be loaded with? What it is? Drop your comments below!