2018's Google Pixel 3 is still a favourite smartphone of many of us – thanks to its outstanding software, exceptional and high-quality camera and exquisite design. All this make us more excited to find out what Google is planning this year for Google Pixel 4 in the UK and its elder brother Google Pixel 4 XL.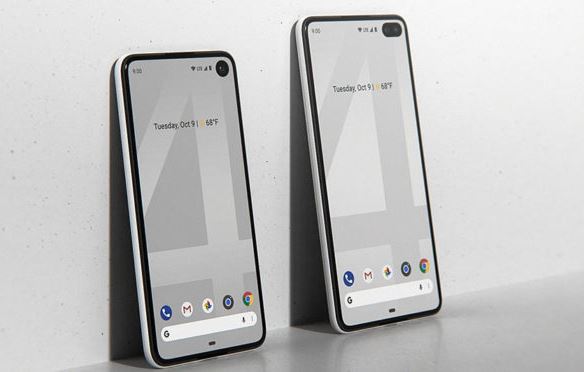 According to the most recent leaks and rumours, Google Pixel 4 will say goodbye to the notch in favour of a punch-hole camera – like Samsung Galaxy S10 Plus and a fingerprint scanner built into the display. The beta of Android Q has already been revealed by Google's developers which includes numerous improvements i.e. camera upgrades, smarter settings options, new sharing shortcuts and much more. The most-anticipated smartphone is likely to face stiff competition from the Galaxy S10 lineup of phones and the still-unidentified Apple 2019 iPhones. Here we have rounded up everything we know about the next Google flagship and what we hope to see in the next generation.
Google Pixel 4 Release Date:
Of course, there is no specific Google Pixel 4 release date in the UK and other parts of the world, for now. The official launch cycle of Google's smartphones – however, does follow a pretty diverse pattern. Google announced its first Pixel smartphone back in October 2016. The Pixel 2 arrived right after one year in 2017 and Pixel 3, a year after that. So, based on this annual cycle, expecting Google Pixel 4 before October 2019 would be wrong.
Google Pixel 4 Price:
As of now, there is no way to put even an educated guess in terms of Google Pixel 4 Price in the UK but as with a release date, there is definitely a pattern evolving. 2016's Pixel cost £599 for 32GB of storage. Since then prices have risen steadily. Google Pixel 3 landed at £739 – so we should expect to be coughing up in between £800-900. A little hike or descend is expected too.
Google Pixel 4 Design:
Based on leaked schematics and renders, Google Pixel 4 smartphone will be loaded with a punch hole panel that looks very much like Galaxy S10. The most interesting news is that the handset is smaller as compared to the Google Pixel 3. An on-screen fingerprint reader is another important element of the rendering process. Google previously placed the reader behind the screen. The first suggestions that we had for the design of Pixel 4 were patent files with full-screen devices showing extremely slim or virtually non-existent bezels.
In one of the filings, the handset is literally all screen, there is no notch, no speakers and importantly no selfie snapper. Without a shadow of a doubt, Google will love nothing more than to release such smartphone – but it won't be wrong to say we wouldn't see anything quite like this.
What's a lot more interesting, and probably viable, is Google's second set of sketches. It has a small bezel which is quite similar to the iPhone XS, which surrounds the display only without a notch for the front-facing camera. The signature stereo speakers in the pixel bisect the upper and lower edges of the display instead. It's a unique concept that probably looks terrible loud— but in fact, it's very clean, minimalist and symmetrical, which doesn't hinder property so much like a conventional score.
It is important to emphasize, as always with patents, that the applications are not revealing of final products or even of prototypes. No indication is given that Pixel 4 will look like either. However, if we had to spend our money on one, it would be the first render from Slashleaks.
What We are Expecting?
Obviously, we are expecting the next-generation Google Pixel smartphone to be loaded with state-of-the-art features including Qualcomm's premium system-on-chip – the Snapdragon 855 as well as a high-quality camera to capture detailed and colourful images.
One way of doing so is by new forms of biometric authentication — either an on-screen or ultrasonic fingerprint scanner or 3D facial scanning – similar to Apple's Face ID. Already available rear-mounted fingerprint scanner in Google Pixel 3 works perfectly – but it's one of the more dated factors of the handset and makes unlocking quite difficult especially when the handset is lying flat on a surface.
Aside from everything, Google Pixel 3 is an excellent smartphone, so far but it's not deniable that Android smartphone manufacturers are grumbling up their devices with a hefty amount of RAM, the Pixel 3's 4GB of RAM feels a little bit ordinary. We are expecting Google Pixel 4 to come with at least 6GB of RAM – so that it can provide an impressive boost to launching apps and multitasking. It's most likely that Google will follow the Chinese smartphone brand i.e. Oppo, Huawei, Vivo and OnePlus and make 128GB of onboard storage standard.
Expecting Google Pixel 4 to be 5G-enabled would be one more wish than a rumour – but everyone knows that 5G is already on its way and it would be quite sensible for Google to start thinking about 5G connectivity for the next generation. What do you say? Besides, Google's contention upon a single rear camera turned out quite great. The last year's Google Pixel 3 image-enhancement software supports a super-powerful rear camera to capture some of the best images. The Huawei Mate 20 Pro comes with triple rear cameras and Galaxy A9 comes with four, therefore, adding a second rear camera would make way for brand-new features – for instance, Optical Zoom.
Last but not least, if there is an area where Google Pixel 3 needs to be better, it's the battery department. The small amount of battery (2915mAh) that powers up 5.5-inches screen are just a bit too small to accommodate stress-free routine use. That is the reason, we would like to see a massive battery in Google Pixel 4.