Coronavirus is getting hype more and more day by, and unfortunately, there are no signs of letting it go. However, one can protect his/her self by washing out his/her hands and face numerous times a day, but it's not easier for everyone to maintain constant cautions – especially for those with an extra-busy life schedule.
Well, sanitizing our routine things like smartphones, watch, and others are the most convenient and smartest way to stay away from germs. According to the Centers for Disease Control and Prevention, our smartphones are "high-touch surface" that may carry the virus quite easily. However, there is nothing to be scared of, really.
You should clean up your smartphone twice or thrice thoroughly, including crannies, all sorts of nooks, delicate glass as well as complicated shielding cases.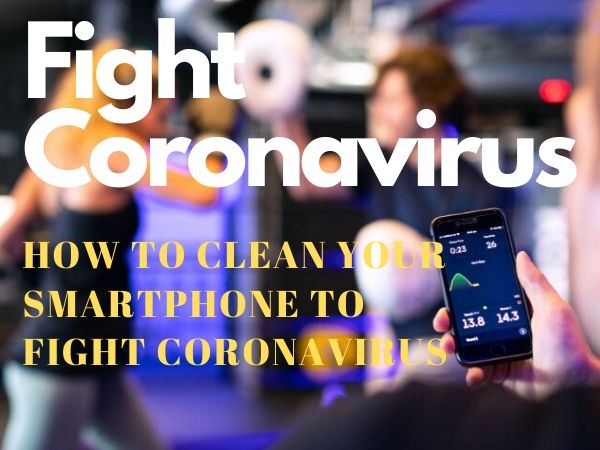 How to Clean Your Phone?
Apple, Samsung, and other smartphones in 2020 makers have been directed for many years to simply use a microfiber to shine your smartphone. Nonetheless, all the new friends of infectious diseases have suggested that you need a disinfectant solution for the successful killing of the virus on a surface — for example, with at least 55% isopropyl alcohol.
Apple revised its website yesterday to lift the ban on all cleaning products. It is now OK that a 70% isopropyl alcohol wipe or Clorox disinfectant wipe is used on the surface of all Apple products. Google has also stated that it is OK to clean your pixel devices using isopropyl alcohol or Clorox wipes.
Samsung has revised its cleaning instruction to include alcoholic cleaners after the publication of this column. Now Samsung Galaxy users are advised to dampen the cloth with a solution for disinfectants or alcohol and to clean it carefully.
A lot of users across the world have asked, can they use soap and simple water to get their smartphones cleaned? Definitely, but make sure not to use rough towels and sponges on display. And don't clear your phones with bleach as well.
Tips How to Keep Your Phone Clean Nowadays
A few precautionary measures can help you stay away from germs and coronavirus with ease. Just think about how you use your smartphone after cleaning it. You put your phone on the ear during a usual conversation where germs can theoretically spread over the face. Seek to use your phone on speaker or at least use a headset or earbuds, especially where a lot of people affected by a coronavirus.
Moreover, it's quite dangerous to share your smartphone with someone else nowadays. If you need to share your phone with another user, ask him/her to talk on a speaker, or use a headset.
If you haven't wrapped your smartphone in a case, it's now the time to do it. You can remove the case to wash it thoroughly if need – beyond protecting your phone.
And at last, you should be extra careful when you put your phone down, especially when you're out of your home. If you need to drop or put your phone, hold it on your person – rather than putting it on a place or other thing in public.