Google Play Store is loaded with a handsome number of Call Recorders alongside a bunch of appropriate uses. Most of the users like keeping their phone calls recorded for certain security and legal reasons. The practice, however, borders on illegal in quite a few areas.
It's better to look at your country's laws before you use any of such applications., improvements to Google Play Store policy greatly affected the call recorder apps industry by prohibiting the use of call logs. Ultimately, due to local regulations, some OEMs prohibit call recordings. Therefore, for so many of us, there are certain obstacles. Still, approx. all applications perform what they are designed for. We have gone through a wide range of Call Recorder Smartphone Apps and some of them are listed here for your convenience. So, let's dig into them!
1: TrueCaller
Key Features
World's best Caller ID Identifies Who is Calling
Block Spammers and Telemarketers
Records All Incoming and Outgoing Calls
Premium Version for Next Level Features
TrueCaller Gold Caller ID for Exceptional Support
TrueCaller leads the chart of Best Android App Record Phone Calls with its mind-boggling and amazing features. The popularity of TrueCaller is that it's known for its caller ID features that help users to block any spam calls as well as SMS.
Not only this, but TrueCaller also tells users about a caller so that he/she can decide whether or not it's important. It's very much reliable and efficient and has quite a few other features like it blocks spammers and telemarketers, record important calls, and backup everything to Google Drive.
2: Automatic Call Recorder
Key Features
Easy to Record and Save Calls
Google Drive and DropBox Storage Integration
Works on Android 3.0 or Above
Different Setting Modes to Choose From
Pro Version with Many Other Enticing Features
Automatic Call Recorder application is another one of the best Automatic Call Recorder Apps available at Google Play Store to download. It's designed to work flawlessly on a couple of devices and can record a wide number of calls with ease.
There are different modes to choose from when it comes to recording your calls. It lets users record all calls or those only with saving numbers or calls which aren't stored in your contact list. Moreover, it has an integration option with Google Drive and Dropbox so that a user wouldn't need to be worried about space any further.
3: Call Recorder – ACR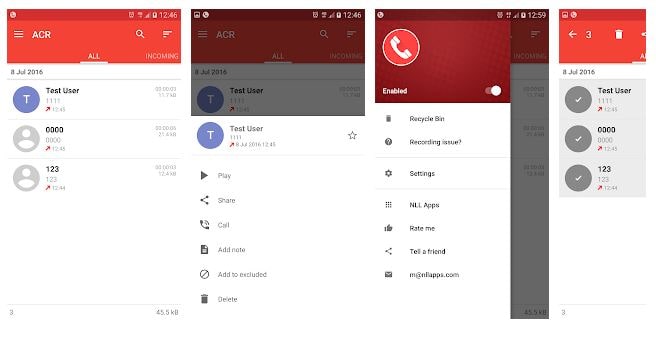 Key Features
Automatic Deletion of Old Calls
Recycle Bin for Easy Recovery
Multiple Options like Select, Delete or Send
Manual Call Recording
Recordings Protected by Password
This call recorder software designed for Android offers many excellent features. With this app, you can organize, sort and group your recorded calls together on a date that you can easily find when searching. The advanced version includes a feature that combines your records with cloud services like DropBox and Google Drive.
The app removes old logs from your Android phone due to the fact that voice data is saved on your phone. The photo and a contact name of the recorded voice can be displayed that helps you find them in a jiffy.
4: Cube Call Recorder ACR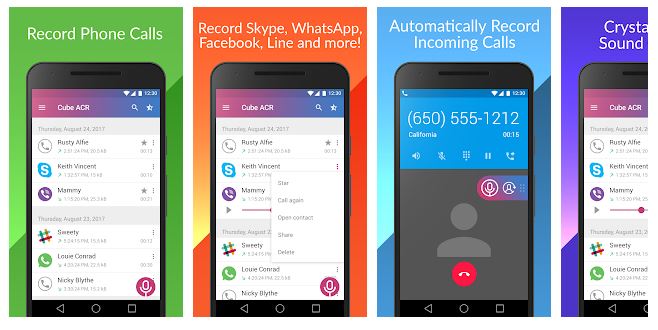 Key Features
Supported by Different Apps like Skype, Viber, WhatsApp and Facebook
Extra Features for Premium Subscribers
Automatic Record Selected Contacts
In-App Playback
Smart Speaker Switching
Adding Cube Call Recorder here on this page is that it's one of the few call recording applications with an actual name. And it's really appreciated. This app is not just for regular calling, but for VoIP services such as Viber, Skype, Slack, WhatsApp, Telegram and other apps. This provides the most useful features, including organizational flexibility, replay, and quality recording. You can even exclude automatic call recording contacts.
5: All Call Recorder Lite 2020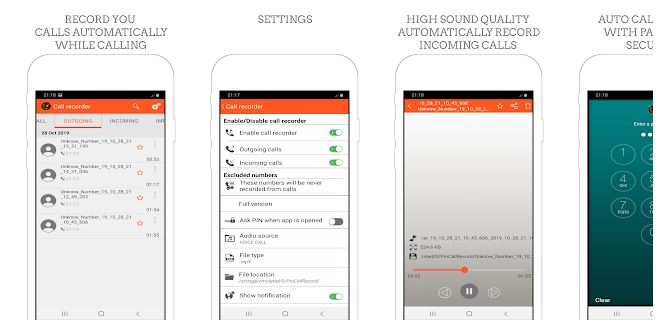 Key Features
Integration of Google Drive for more Space
Call Recording is Never Missing
Secure Incoming and Outgoing Calls Recordings
Easy to Create a Library of Conversation
Integrated Audio Player to Play Recordings
All Call Recorder Lite 2022 is considered another one of the best Apps to Record Phone Calls that is quite light in nature and equipped with a simple UI. The app consists of four sections: all calls, important calls, incoming calls, and outgoing calls.
The call recorder software has different settings such as deleting numbers from which calls don't want to be registered, accessing the device using a button, sharing options and even eliminating advertisements. The app is simple to use with very little configuration to do the process of call recording. This includes advertisements, however.
6: BlackBox Call Recorder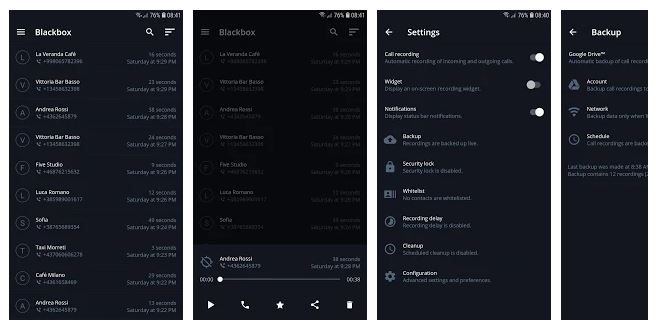 Key Features
Block Others to Access Your Calls Record
Schedule for Auto Cleaning Old Calls
Proximity Sensor for Playback
High-Quality and Efficient Call Recording
Huge Storage for Data Files
Right after launching BlackBox Call Recorder, you will immediately get quite a few warnings like it has a one-sided recording on some carriers, power-saving mode, non-compatibility with other voice recording apps, and numerous other permissions before commencing the process.
Once the app has been opened, all call recordings are displayed and a left-hand hamburger menu with several other choices and a search logo to the right is displayed to check for unique call recordings.
7: Auto Call Recorder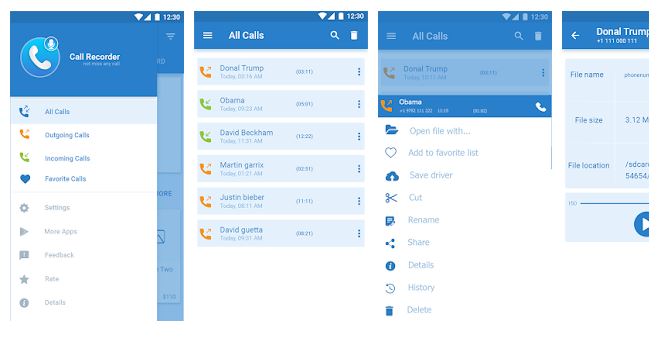 Key Features
Auto Delete Old Calls (Longer than 1 Week)
Play Audio Recorded Conversation
Save Records and Upload to Google Drive
Send Calls to Listed to Email
Recording All Phone's Conversations
This features-enriched Android Call Recorder is holding its position on number seventh. After installing, it asks quite a few permissions and then it's ready to use. Like the numerous phone recording applications, the Auto Recorder has a tab that lists all recorded calls, with choices like all calls, incoming calls, outgoing calls, favourite calls, settings and more.
The right side of the screen has a search icon that lets you look for call records and then advertisements are shown at the bottom of the page.
8: Smart Voice Recorder
Key Features
High Definition Audio Recording
Play, Pause, Stop Audio File
Simple User Interface and Instant Start
Easy to Use Recording List
Stop Recording or Playing During Call
Last but by means, not the least, Smart Voice Recorder is another Call Recording Android application with many handsome recording features. It's entirely free-of-cost and there is no paywall for any feature. It can change between normal recording and call recording if you need it.
You can record and share it in your cloud storage if necessary, with a number of audio codecs. This app works flawlessly for a free application and is not bad as long as you can manage the advertisements.
Final Words
Let's finish this off by saying, if we have missed an important Best App for Call Recording you know about and experienced but we don't, do let us know in the comments section. Aside from call recording applications for a second, we too have assembled a wide list of best PUBG Mobile Headsets along with their impressive and enticing features as well as pros and cons.