Smartphones are indeed playing a significant role to help us in numerous techniques to stay healthy and enjoy a better life. Both the Google Play Store and Apps Store are loaded with a variety of Best Fitness Apps 2022 like a Sleep Tracker and many more. The latest and coolest smartphones like Huawei Mate 30 Pro, Samsung Galaxy S10 and Note 10 are equipped with a handsome number of built-in sensors that can send instructions about our daily workouts.
The available fitness applications get data from these sensors and help us by displaying to gain muscles, lose weights and keep a healthy lifestyle. Most of the apps (in fact all) hold a routine workout training which can help you fulfil your goals without any professional trainer at home.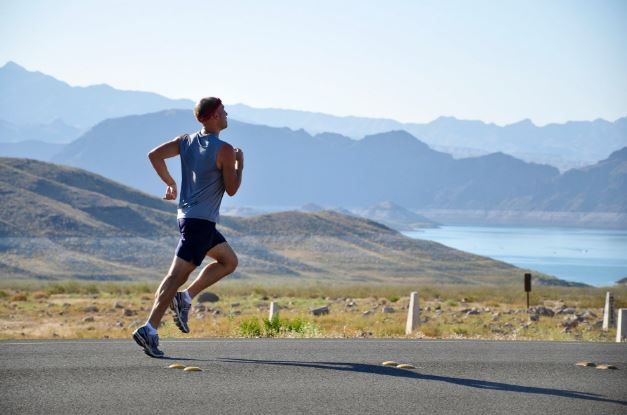 Today, we have gathered Best Fitness Apps 2022 UK here at NextGenPhone that will definitely help you maintain a better and healthy lifestyle without any hassle. All listed below applications are best in class and can be downloaded into any smartphone.
1: Google Fit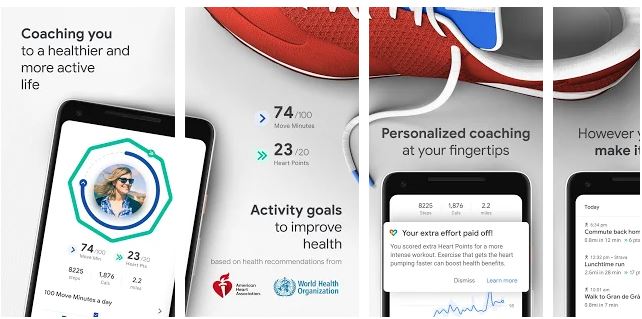 Key Features
Easy to Track from Phone or Watch
Monitor Your Goals
Every Movement Count
Coaching for Perfect Workout
Connect with Favourite Apps and Devices
Perhaps you won't be appealed to use Google Fit fitness tracking app but it's highly serviceable and indeed one of the Best Fitness Apps Free with a lot of mind-boggling features. It helps you track all your fitness activities using a point system and active minutes too.
Google has designed Google Fit with so many other interesting features like it houses fitness goal tracking, customised tips, and incorporation with numerous other apps such as MyFitnessPal, Strava, Runkeeper and more. Not only this, a user can get some support for hardware like Xiaomi Mi Bands and Wear OS Smartwatches.
2: Nike Training Club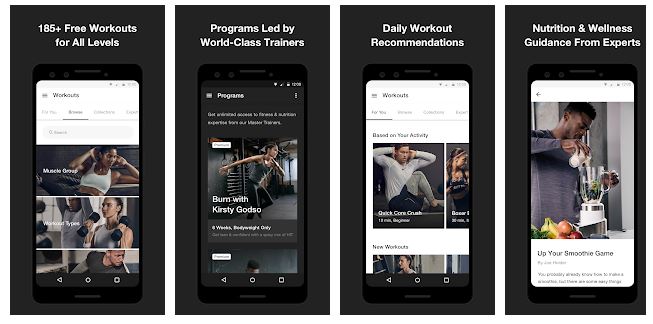 Key Features
Different Levels
Time-based and Rep-based Options
Low, Moderate and High Intensity
Workout Times Ranging from 15-45 Minutes
Body Part Focused Workouts
If you are currently using Samsung Galaxy S10 Plus or Galaxy Note 10 Plus, Nike Training Club is an option to download as it's one of the Top Fitness Apps . It has an eye-catching user-interface and many exquisite features you wouldn't find anywhere else. Moreover, it contains no in-app purchases or ads.
This application is designed to work on a fixating exercise that aims your abdominals, biceps, triceps and quite a few other parts of your body. There are more than 160 workouts in this application – aiming at endurance, mobility, strength and providing different levels of toughness.
3: Map my Fitness Workout Trainer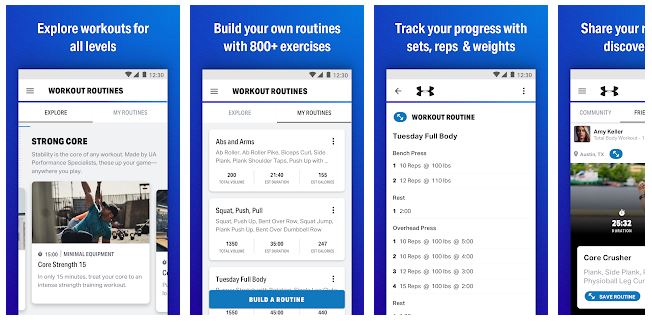 Key Features
Easy to Track Workouts
Sync with Latest Apps and Wearables
Take Control of Nutrition
Easy to Share Workout on Social Platforms
With Map My Fitness, you can easily track and map your fitness, receive feedback and performance statistics. It's involved with more than 600 different varieties of exercises, including playing, running, yoga and more. You may also be noticed about every tracked activity with voice feedback and Map My Fitness to provides nutrition tracking, meal preparation, and many others.
Besides, it helps you find nearby places for activities and save it. Moreover, you can share your information with your loved ones on different social platforms and it's free to download on all smartphones. It doesn't contain in-app purchase but many ads.
4: Runkeeper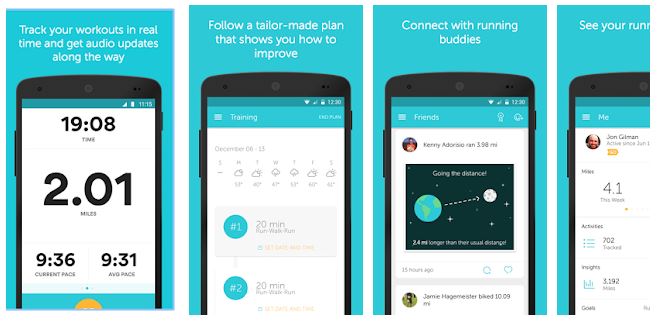 Key Features
Follow a Proper Plan
Trac Workout like Walking, Jogging and Running
Bluetooth Connectivity with Headphones
Stopwatch Mode for Indoor Cardio
Social Sharing with Friends
Runkeeper, as the name suggests, is a fitness tracker application for runners. Calling it one of the best Fitness Apps iOS wouldn't be wrong. However, it's available in Google Play Store too with many features like frequency of your runs, pace, distance and more. Interestingly, it has support for Wear OS devices and other apps like MyFitnessPal.
All you need to do is to hit the go button and the rest will be done by this app. It includes a stopwatch mode for things like indoor cardio and even has a Spotify integration. Unfortunately, it doesn't have integration with other music applications.
5: Strava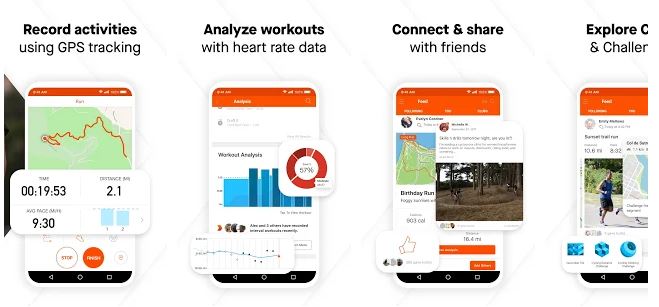 Key Features
Map Your Route
Different Training Challenges
Track Running and Analyses
Distance Tracker and Mile Counter
Strava is the best fitness app for Android because it has a unique feature, such as a headboard. You can participate or challenge users of other applications in a leaderboard with ease. You can log and map your cycling and running routes on a daily basis. It has a counter with a mile and a GPS tracker.
Spend a little amount of money and you will get its premium version with a lot of new features like getting training of marathon. It's the best fitness tracking application that can be downloaded free of cost with a few in-app purchases.
6: Fitness Point Pro
Key Features
Unlimited Number of Logs
Data Available to Export Easily
Hundreds of Exercised with Description
Body Tracker to Control Weight and More
A timer to Control Exactly Your Breaks During Exercise
Are you looking for a fitness tracking app that comes with all possible features and complete skilled grade exercise? Fitness Point Pro has got you covered as it's also the best Apple Watch Fitness Apps that works on iPhone, iPad and other Apple devices with ease.
With this new iOS fitness tracker application, one can easily track his/her burned calories, edit, add or share his/her workout information on social platforms as well as track weight and much more. This fitness tracker app comes with predefined workout schedules combined with useful alternative ways to create an all-in-one fitness application for iPad, Apple Watch and iPhone.
7: Run Static – Adidas Running App
Key Features
Real-Time Tracking with Built-in GPS
Customisable Dashboard
Live Tracking & Cheering
Targeted Challenges for Motivation
Run static is another one of the Best Fitness Tracking Apps for people who like daily exercises. This uses GPS trackers to track your runs, walking and jogging. You can build a table and graph of details concerning your daily progress using the GPS Tracker Instruction. Run Static can also be used in gyms on different tools like treadmills.
It, however, contains multiple factors such as voice coach and live tracking. And with the help of Run Static, you can achieve your desired running goals with ease. It's being supported by Android Wear – hence, you are able to share your progress on different social platforms.
8: MyFitnessPal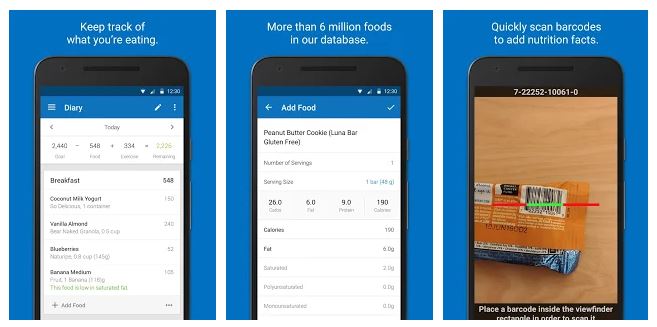 Key Features
Biggest Ever Food Database
Calculator to Count Burned Calories
Tracking for All Nutrition
Personalised Experience for Healthier Choice
Barcode Scanner to Log Foods
If you are looking for an all-in-one solution for both dieting as well as fitness, MyFitnessPal has got you covered. It has a range of nutrition tracking tools and any kind of exercise you enjoy. It comes with more than 50 different exercises and nutrition apps alongside a variety of hardware devices. It is one of the hardest and most expensive solutions in the list. But it's just about everything that really does.
The user interface is really very nice for how many things it can do. Few features are available in the free version. And a subscription is available that unlocks everything. It is expensive, but it works for three apps which means it needs to be taken into account.
9: Strong – Workout Tracker Gym Log
Key Features
Automatic Data Backup
Built-in Auto Countdown Timer
Advanced Statistics for Personal Records
Detailed Instructions for Exercise
Built-in Body Measurement Trackers
Strong – Exercise Gym Log has a gym log with similarities to FitNotes. All your workout habits can be entered and tracked over time. This contains some interesting tools such as a scale for warming up and tips for boosting power from previous numbers. It has a few additional features from something like FitNotes, but you can find it a little easier to use. The user interface is also clean and simple to use. There's a monthly cost here, but you can buy the whole app with a lifetime license once at a price of £99.99.
10: JEFIT Workout Tracker
Key Features
Tracking Easier with App and on Web App
Exercise Instruction Database
Customised Workout Training Programs
Monthly Fitness Challenges
Add Friends in Your Community for Bodybuilding Tips
JEFIT is not only a tracker app but a workout trainer as well. It fits well with most fitness routines with ease. It seems, however, that it leans a little more towards bodybuilding. Cross-platform support is offered between your phone and the website. A number of tools are also available, including a workout schedule planner, a body measurement log, interval timers, and a rest timer.
One thing that actually makes it the Best Fitness Tracker Apps 2022 is that it's containing more than 1300 workouts. It has both advanced and beginner workout routines and a lot more. It comes with a little hike in price but it's probably expensive to maintain this huge database.